A full spectrum of nutrients to support your teenage boy's growth and development. Specifically formulated for strong bones, brain health and hormone balance.
Key benefits
Brain function and mental performance

Contains Zinc which contributes to cognitive function alongside Vitamin B6 which supports the regulation of hormonal activity and pantothenic acid which contributes to normal mental performance.. 

Supporting body and energy

Contains Vitamin D which contributes to the maintenance of bones, teeth and muscle function alongside Vitamin C, B12, B2, B1, Calcium and Magnesium which all support a normal energy-yielding metabolism. 

Founder formulated

Our founder and formulator Henrietta Norton, herself a mother of three, created this unique formulation to support the nutritional, physical and mental demands of teenagers throughout their formative teenage years. 

Food-Grown® 

Our pioneering Food-Grown® method mimics nature. By bonding nutrients at low temperatures into real, live food, we retain whole-plant goodness in a digestible form your body easily recognises and uses.
How to take our Food-Grown Daily Multi Nutrient for Teen Boys

Dose

2 capsules taken together.
Any time of day.

Do not exceed the recommended daily intake.




How to take it

With or without food. Our nutrients are made from food, so you don't need to take them with a meal.

Works well with

Many of our products.

For particular health needs, works particularly well with:

Organic Protein + Superfood Powder
Zinc plus
Energy Support
Iron Plus
Multi Strain Biotic
KSM-66® Ashwagandha
Magnesium

You're bound to have a few questions

Find out all you need to know about our Wild Nutrition products or ask your own question below.

Can my son take this if he is not yet 13?

Yes, absolutely. We recommend this product from the age of 12, or from when your son starts to enter puberty.

Does my teen need to take extra Vitamin D with this?

This is safe to combine with our Food-Grown Vitamin D, and your teen may choose to supplement with extra depending on the time of year. Supplementation of Vitamin D is officially recommended during autumn and winter, however if your teen is unwell, staying indoors for extended periods of time or has dark skin, they will need to supplement all year round. Vitamin D is particularly important for your teen's bones, teeth, hormones, calcium absorption and immune system.

Can my teen take this alongside extra B Vitamins, Magnesium & Vitamin C alongside the Teen multis?

Why would my teen need to take a supplement if they eat a healthy diet?

Teenagers have an increased demand for key nutrients during their teenage years. They require additional energy to support the brain, skeletal system and muscle growth as well as to cope with rapid hormonal shifts. It can be harder to consistently control the diet of teenagers as they gain more independence and move away from good home-cooked food or develop new dietary preferences. Studies show that many teens have inadequate intakes of vital nutrients including Vitamin D, Vitamin C, Vitamin B1, Vitamin B2, magnesium, calcium, iron and zinc. Teens who are focused on fitness or are sporty, under pressure with school work, extra curricular activities or are very socially active may require extra nutritional support.
Food-Grown® Daily Multi Nutrient for Teen Boys
Brain function
Support bone growth
Mental resilience
Hormonal support
Energy metabolism
Contains Reishi mushrooms
60 capsules - 30 day supply
Free UK delivery on subscription orders. View full details
A full spectrum of nutrients to support your teenage boy's growth and development. Specifically formulated for strong bones, brain health and hormone balance.
Why subscribe?
Enjoy 20% off your monthly plan
Skip or cancel at any time
100% recyclable letterbox refills
Scientifically formulated

Ethically sourced

Natural ingredients

Founder formulated

Vegetarian

Kosher
"It can be hard to control the diet of teenagers, so as a nutritionist, formulator and mother of three boys myself, it was vital for me to create a Multi Nutrient specifically tailored to their nutrient demands."
Henrietta Norton, Founder & Formulator
What goes in
28 nutrients including….
Reishi Mushrooms supporting immune system
Artichoke leaf with antioxidant properties
Selenium contributing to normal thyroid function
Vitamin B12 reducing tiredness and fatigue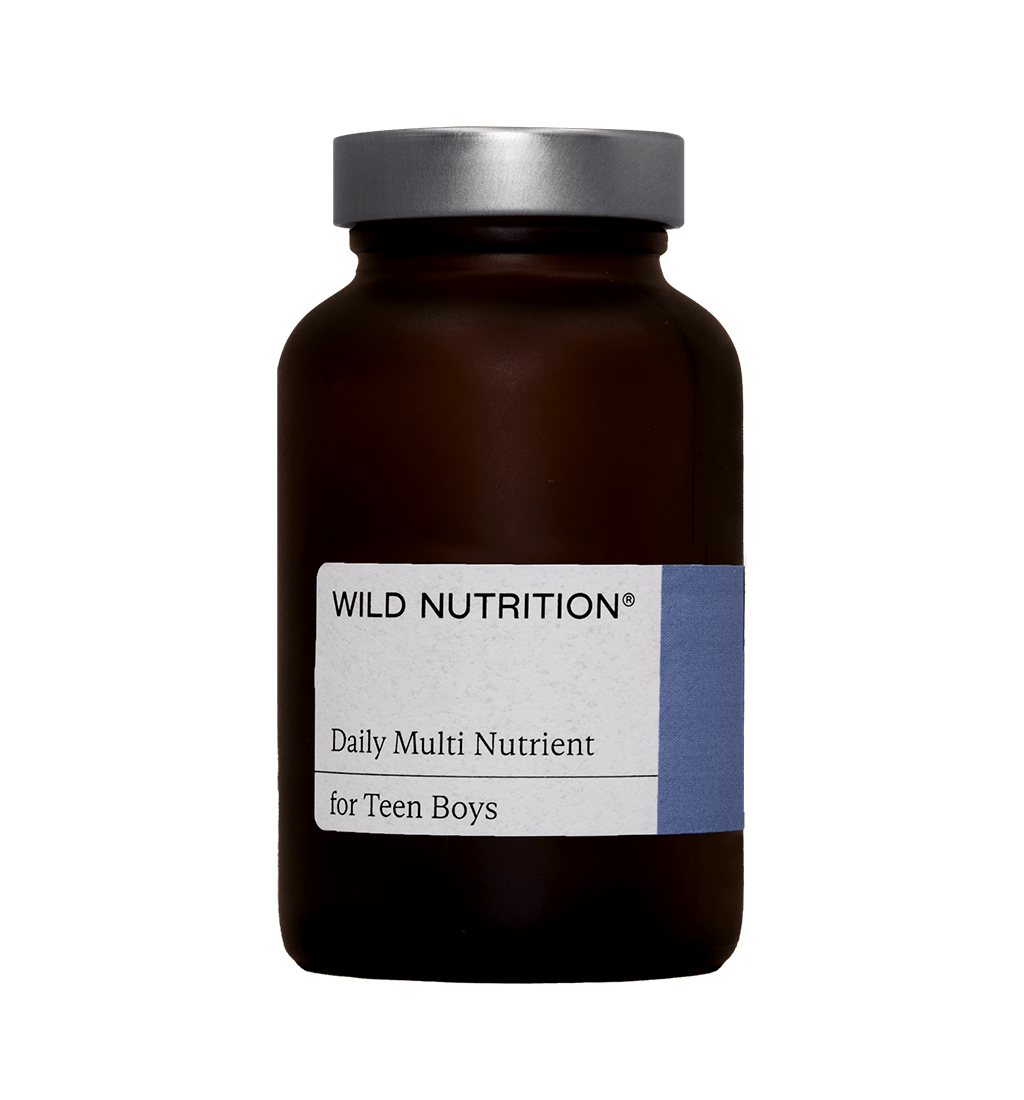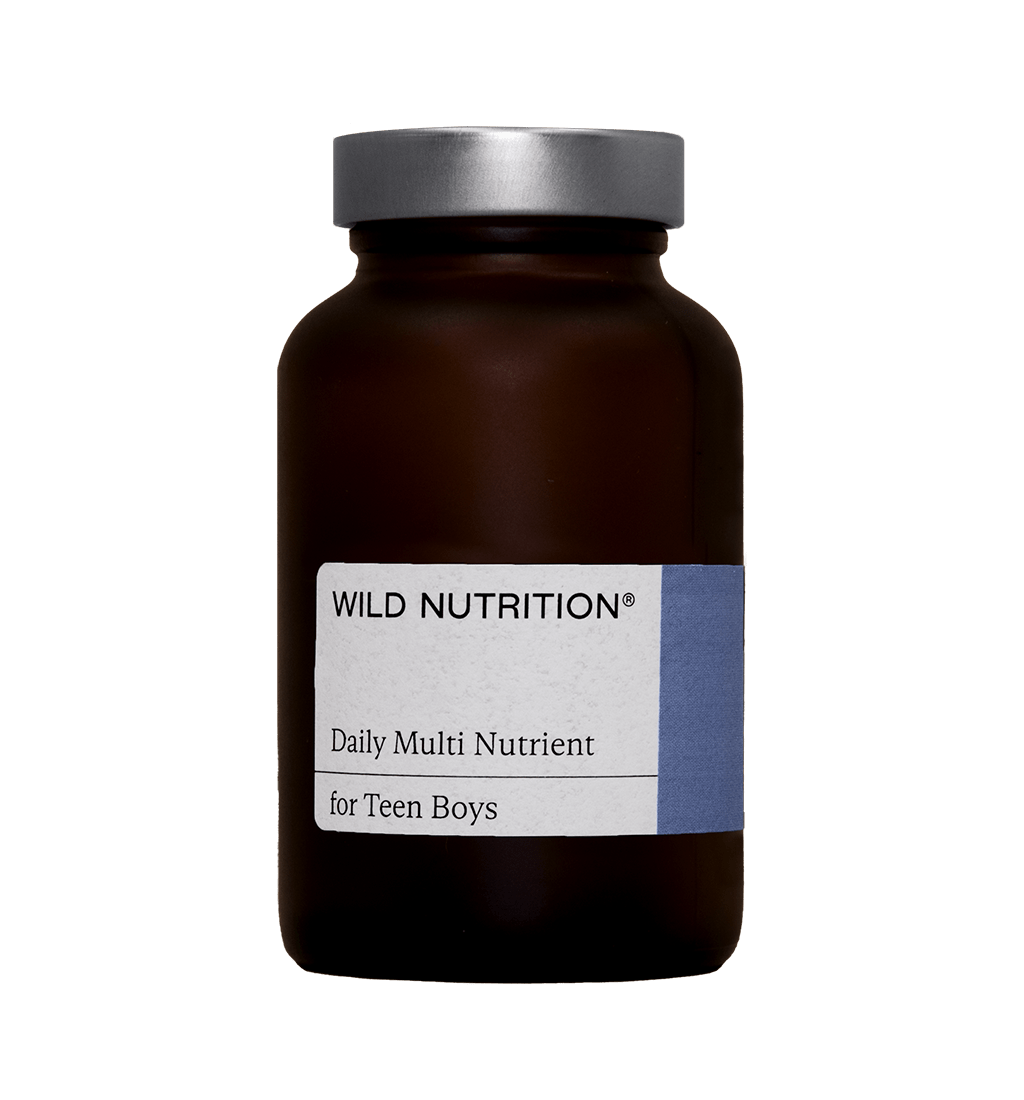 What stays out
We never use...
Added fillers or binders
Artificial preservatives or colourings
Wheat, gluten, rye, oats or corn
Sugars
Need help finding the right supplements for you?
Our expert Nutritional Therapists are here to help.
Book free consultation
Step 1
Book a free consultation
Simply follow the link and choose a suitable time to speak to a Nutritional Therapist.
Step 2
Bespoke advice for you
Our consultations offer tailored support for your health.
Step 3
Delivered to your door
Your new or updated health routine is ready to go.
Ingredients & Nutritional Information
Our Food-Grown Daily Multi Nutrient for Teen boys ingredients
Ingredients: Lithothamnium Calcareum (Red algae) powder (providing Calcium), Nutrient-enhanced Yeast (providing Selenium, Iron, Vitamin B6, Chromium GTF, Riboflavin, Niacin, Inositol, Manganese, Folic acid [as naturally occuring folate], Choline, Biotin, Thiamin, Molybdenum, Vitamin K1, Iodine, Vitamin B12 and Vitamin D3), Vegetable Cellulose (capsule shell), Nutrient- enhanced Citrus pulp (providing Vitamin C and Bioflavonoids), Carrot concentrate (providing Beta- carotene), Nutrient-enhanced Lactobacillus Bulgaricus (providing Zinc, Pantothenic acid and Copper), Reishi (Ganoderma lucidum) Mushroom powder, Purified Seawater (providing Magnesium), Artichoke leaf powder and Nutrient-enhanced Yellow Pea (Pisum sativum) preparation (providing Vitamin E).
Cautionary advice: If you are taking medication or under medical supervision, consult your doctor before taking any food supplement. We advise taking your supplements a minimum of 2 hours after taking any medication. Keep out of sight and reach of children. Do not take if seal is broken. Store in a cool, dry place away from direct sunlight. Food supplements are not to be used as a substitute for a varied, balanced diet and healthy lifestyle. For best before date & batch number please see base of packaging.
Free from: Artificial colours, sugars, flavourings & preservatives. Contains no live yeast at time of manufacture. Kosher and suitable for Vegetarians.
Nutritional claims: Contains Vitamin C which contributes to normal energy-yielding metabolism, Zinc which contributes to normal cognitive function and Vitamin B6 which contributes to the regulation of hormonal activity. Pantothenic acid contributes to normal mental performance. Contains Vitamin D which contributes to the maintenance of bones, teeth and muscle function.
*NRV = Nutrient Reference Value
µg = microgram
mg = milligram
α-TE = alpha tocopherol equivalents
NE = niacin equivalents
Nutritional information
2 capsules provide
% NRV*
Vitamin D
2.5μg
50
Vitamin E
5mg α-TE
42
Vitamin C
30mg
38
Vitamin K
15μg
20
Thiamin Vitamin B1
1mg
91
Riboflavin Vitamin B2
2mg
143
Niacin
5mg NE
31
Vitamin B6
5mg
357
Folate
100μg
50
Vitamin B12
1.5μg
60
Biotin
25μg
50
Pantothenic acid
5mg
83
Calcium
100mg
13
Iron
2mg
14
Magnesium
30mg
8
Zinc
7mg
70
Copper
0.26mg
26
Manganese
1mg
50
Selenium
60μg
109
Chromium
60μg
150
Molybdenum
5μg
10
Iodine
20μg
13
Beta-Carotene
2.5mg
Bioflavonoids
3mg
Choline
2.5mg
Inositol
5mg
Reishi mushroom powder
100mg
Artichoke leaf powder
50mg
Energy, fat, protein, carbohydrate
Negligible