Fertility is a nutritionally critical time. The choice of fathers-to-be across the globe, this naturally-sourced nutritional supplement supports sperm health, testosterone, fertility and immune system.
Men's Fertility - Key Benefits
For healthy sperm

Contains the mineral Selenium to support seminal health, volume and production, all vital for conception. And Vitamin E to protect sperm from oxidative stress.

Supports healthy testosterone

Among its myriad benefits, Zinc supports healthy testosterone, fertility and reproduction.

For immune support

When planning to conceive, ideally you'll be in optimal immune health. Supporting your immune system with 100% of your daily recommended Vitamin D, as found in this new formulation, is key.

Energy and mood

Contains Vitamin B6 for male hormone support, reduction of fatigue and energy. Also contains Vitamin B12 for normal energy release.
How to take our Men's Food-Grown Fertility

Works well with

Can be taken in combination with Food-Grown Vitamin D, Food-Grown B Complex Plus, Pure Strength Omega 3, Multi Strain Biotic, Food-Grown Magnesium, Food-Grown Zinc Plus and KSM-66 Ashwagandha Plus.

Dose

2 capsules taken together.
Any time of day.

How to take it

With or without food. Our nutrients are made from food, so you don't need to take them with a meal.

You're bound to have a few questions

Find out all you need to know about our Wild Nutrition products or ask your own question below.

Do men really need to take a supplement for fertility?

Fertility preparation is very often seen as the preserve of women. In fact, for over half the couples in the UK who experience subfertility (they are less than normally fertile), it is the result of problems on the male side. If you and your partner know you want to conceive, you should both try to make some dietary and supplement changes three months ahead of that time. During these months sperm cells develop before being ready for ejaculation. Eating a nutritious diet and taking supplemental support during this time can greatly influence the quality and efficiency of this process and gives you and your partner an even greater opportunity to create a healthy pregnancy.

Can I take this during assisted fertility such as ICSI?

Do I need to take extra Vitamin D with this?

This product contains 10ug of Vitamin D, there may be circumstances where you may need to take additional Vitamin D i.e if you have been advised to increase your dose, you have been tested and are low or have not naturally acquired Vitamin D for some time i.e through seasonal changes, or prolonged time spent out of the sun. For a personal recommendation our expert Nutrition team is on hand to advise.

Can I take this alongside your Food-Grown Zinc for sperm health and testosterone production?

Why have you included medicinal mushrooms in the product?

Cordyceps is included in this formula for the traditional support of sexual function. Research has shown this medicinal mushroom to be incredibly helpful for many aspects of fertility and sperm health, and it also provides essential physiological and psychological support for men's health.

Why have you included amino-acids?

We have included amino acids N-Acetyl Cysteine, L-Carnitine and L-Arginine as they have been clinically proven to benefit sperm health and sexual function.

I eat well, do I need to supplement?

Multi nutrients are particularly important for busy lifestyles, when we are run-down, stressed or simply have less time to eat a fresh and balanced meal, as well as for replenishing our nutrient levels commonly affected by the intake of medications, alcohol and environmental toxins. The increase of intensive farming methods across the world has also meant that sadly our soil is gradually decreasing in essential nutrients such as Selenium, making even the freshest fruit and vegetables deficient in certain vitamins and minerals, and therefore increasing our need to supplement with a powerful all-round multi-vitamin.
Food-Grown® Fertility Support for Men
Normal testosterone
Sperm health
Mental resilience
Energy metabolism
Antioxidant support
Reduces tiredness
60 capsules. 30 days supply.

Free UK delivery on subscription orders. View details

Earn
points on this item - Join Wild Rewards
Fertility is a nutritionally critical time. The choice of fathers-to-be across the globe, this naturally-sourced nutritional supplement supports sperm health, testosterone, fertility and immune system.
Ethically sourced

Formulated by our Nutritionist & Founder

Vegetarian

Cruelty free

GM free
"Great product, does the trick."
Adam
What goes in
33 key nutrients including...
Zinc for fertility and reproductive health
Vitamin B6 for healthy hormones
Selenium for a healthy sperm
Vitamin B5 and Magnesium for healthy psychological support
Vitamin C for oxidative stress support
B12 for healthy energy and recovery from fatigue
Medicinal Mushrooms for promoting physical resilience
N-Acetyl Cysteine and amino acids frequently used in preconception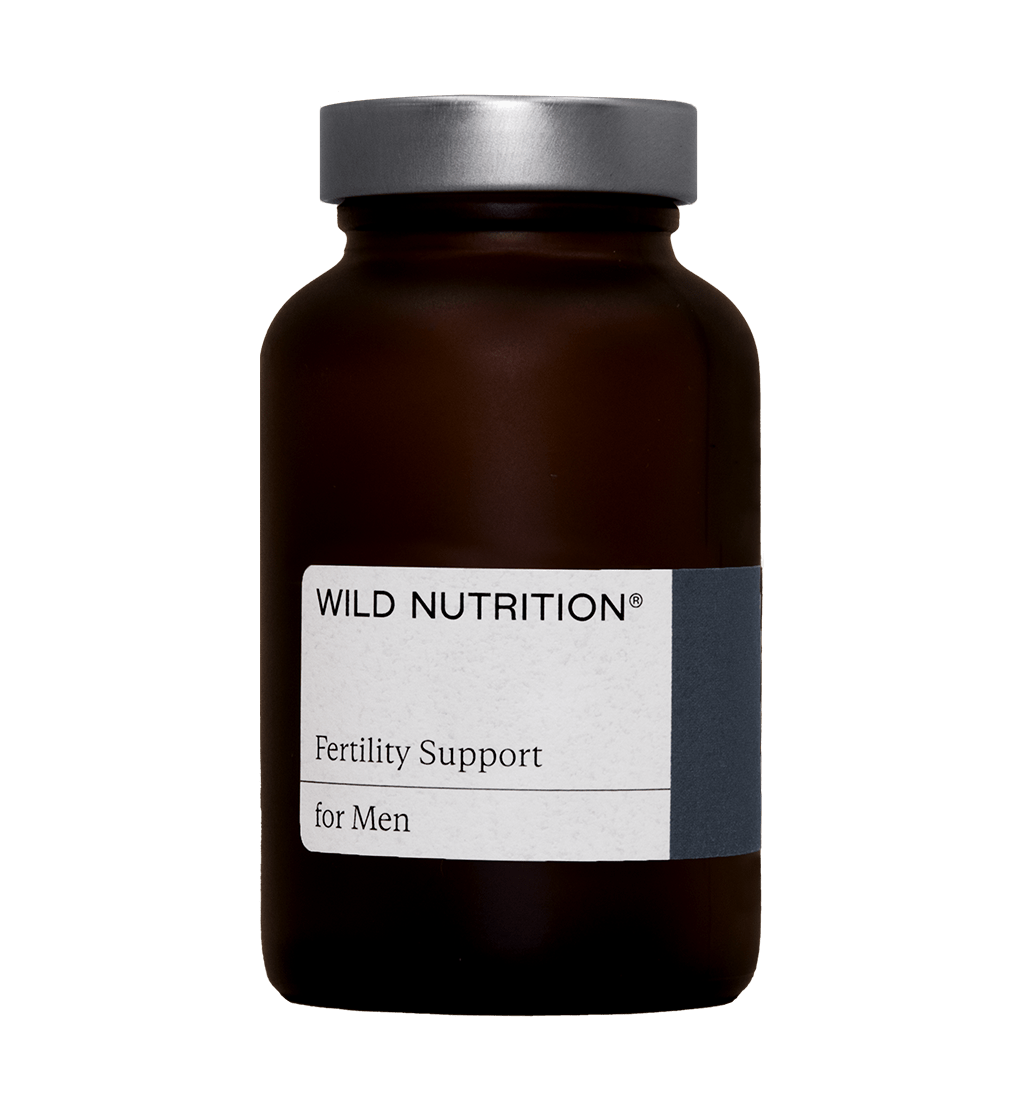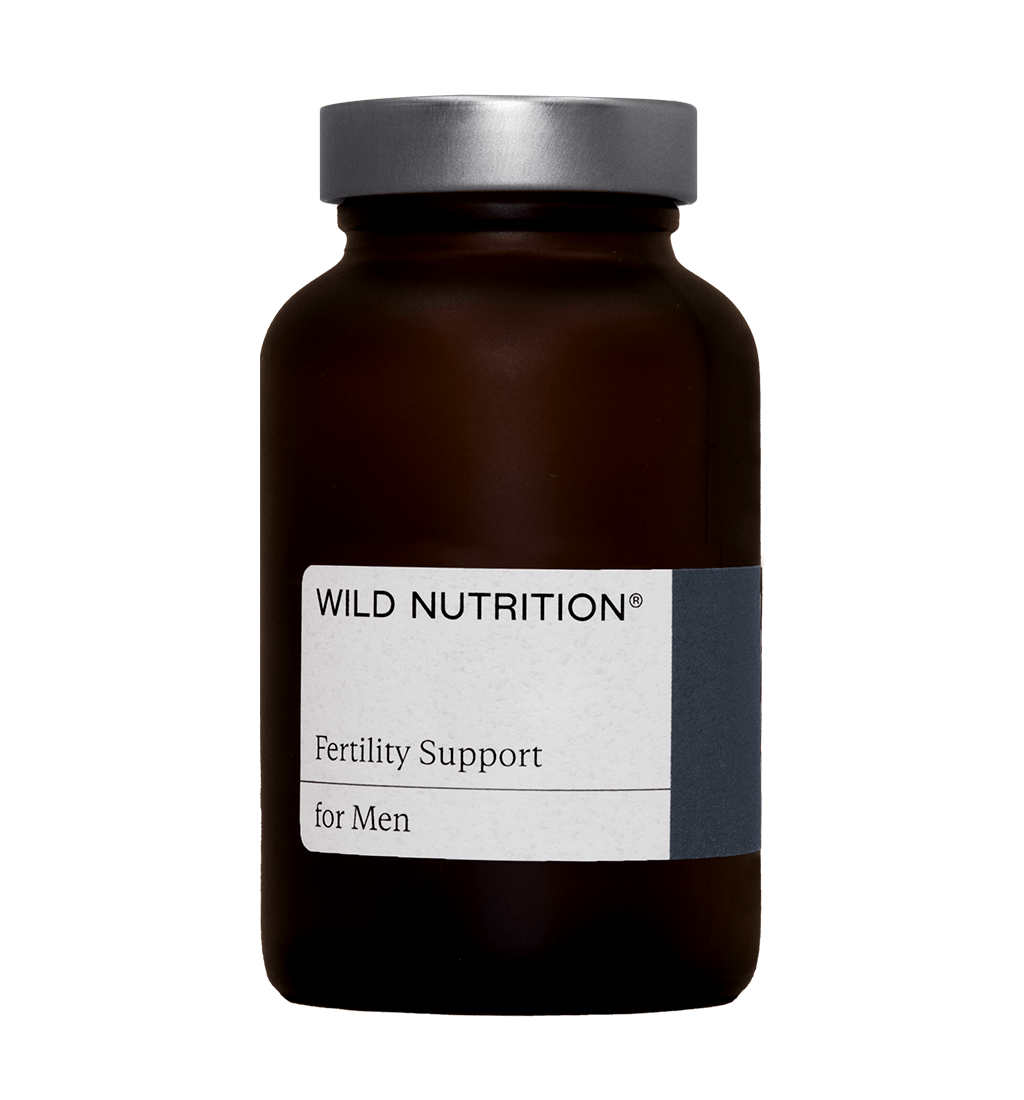 What stays out
We never use...
Added fillers or binders
Artificial preservatives or colourings
Wheat, gluten, rye, oats or corn
Sugars
Need help finding the right supplements for you?
Our expert Nutritional Therapists are here to help.
Book free consultation
Step 1
Book a free consultation
Simply follow the link and choose a suitable time to speak to a Nutritional Therapist.
Step 2
Bespoke advice for you
Our consultations offer tailored support for your health.
Step 3
Delivered to your door
Your new or updated health routine is ready to go.
INGREDIENTS & NUTRITIONAL INFORMATION
Our Men's Food-Grown Fertility ingredients
Vitamin C and Bioflavonoids incorporated in citrus pulp, Vitamin and Mineral enhanced Yeast providing; Thiamin, Riboflavin, Vitamin B6, Vitamin B12, Vitamin D3, GTF Chromium, Selenium, Niacin, Molybdenum, Biotin, Choline, Inositol, Boron, Iron, Manganese, Folic Acid (as naturally occuring Folate), Vitamin K, Pro-natured CoEnzyme Q10, L-Arginine and L-Carnitine, Yellow pea (Pisum Sativum) providing Vitamin E, Purified Seawater (providing Magnesium),Vitamin and Mineral enhanced Lactobacillus bulgaricus providing; Pantothenic Acid, Calcium, Zinc and Copper, Beta-Carotene incorporated in Carrot concentrate, N-Acetyl Cysteine, Cordyceps Sinensis powder and Pine Bark extract, Heat treated brown rice powder, Vegetable Cellulose (capsule shell).
Cautionary advice: If you are taking medication or under medical supervision, please consult your healthcare practitioner before taking any food supplement. Store in a cool, dry place away from direct sunlight. Keep out of reach of children. Food supplements are not to be used as a substitute for a varied, balanced diet and healthy lifestyle.
Nutritional claims: Contains Selenium which contributes to normal spermatogenesis and Zinc which contributes to normal fertility and reproduction. Vitamin D which contributes to the normal function of the immune system. Vitamin E which contributes to the protection of cells from oxidative stress. Pantothenic acid which contributes to normal mental performance and supports your energy-yielding metabolism and Zinc which contributes to the maintenance of normal testosterone levels in the blood.
*NRV = Nutrient Reference Value
µg = microgram
mg = milligram
α-TE = alpha tocopherol equivalents
NE = niacin equivalents
Nutritional Information
2 capsules provide
% NRV*
Vitamin D
10ug
200
Vitamin E
5mg α-TE
42
Vitamin K
20μg
27
Thiamin (Vitamin B1)
1.5mg
136
Riboflavin (Vitamin B2)
1.5mg
107
Niacin
2mg NE
13
Pantothenic Acid
5mg
83
Vitamin B6
2mg
143
Folic Acid
200μg
100
Vitamin B12
200μg
8000
Biotin
50μg
100
Vitamin C
30mg
38
Calcium
120mg
15
Magnesium
56mg
15
Iron
3mg
21
Copper
250μg
25
Iodine
150μg
100
Zinc
2.5mg
25
Manganese
1mg
50
Selenium
50μg
91
Chromium
30μg
75
Molybdenum
10μg
20
Boron
0.5mg
Choline
5mg
Inositol
5mg
Beta-Carotene
1mg
N-Acetyl Cysteine
50mg
CoQ10
0.2mg
Pine Bark extract
30mg
Cordyceps Sinensis powder
100mg
Bioflavonoids
3mg
Energy, fat, protein, carbohydrate
N/A