Healthy bones need a healthy support structure. Cue this much-loved supplement, formulated to support bones, muscles, joints, cartilage and teeth.
Key benefits
Supports healthy bones

Vitamins C, D and K, along with minerals Calcium, Magnesium and Zinc all contribute to the maintenance of normal bones.

Muscle support

Healthy bones need healthy muscles to support them. Cue Calcium, Magnesium and Vitamin D, nutrients proven to contribute to normal muscle function.

Supports the immune system

If you're experiencing ailments or injury, your body needs a healthy immune system to support the healing process. Formulated with Vitamin D3 and Selenium to support the immune system.

For joint health

Boswellia extract, used for centuries in Ayurveda, helps support your joints.
How to take our Bone + Muscle Support

Dose

3 capsules taken together, any time of day. Do not exceed the recommended daily intake.

How to take it

With or without food. Our nutrients are made from food, so you don't need to take them with a meal.

Works well with

Many of our products, particularly:

Immune Support
Pure Strength Omega 3
Turmaforte™ Turmeric
Vitamin D
Magnesium

You're bound to have a few questions

Find out all you need to know about our Wild Nutrition products or ask your own question below.

Do I need to take extra Vitamin D with this?

Our formula contains 10ug (400iu) of Vitamin D3, however some people may need more. Supplementation of Vitamin D is officially recommended during autumn and winter, however if you are unwell, staying indoors for extended periods of time, elderly, have dark skin or are pregnant or breast-feeding, you will need to supplement all year round. We would also recommend taking our Vitamin D alongside this product in cases of a fracture or joint issues, and when managing a bone condition. If you would like any further advice please contact our Nutritional Team.

Is there enough Calcium in this product?

Our recommended dose of 3 capsules provides 150mg. In most circumstances this is an ideal amount for general use, however you can supplement with more Calcium if needed. Our formula provides Food-Grown® Calcium which is much easier for the body to absorb than synthetically-sourced Calcium. What is most vital for Calcium absorption are the nutrient 'cofactors' included in our formula, making this product's absorption capacity superior than single nutrient Calcium. Please speak to our Nutritional Team if you would like any further advice.

Can I take this for osteoporosis or osteopenia?

Can I take this for osteoarthritis?

Can I take this alongside your Daily Multi Nutrient?

Can I take this alongside your Botanical Menopause?

Yes, these two products are a great combination.

Can my teenager take this?

Yes they can, especially if they have experienced a growth spurt or after healing from a fracture.

Can I take this whilst breastfeeding?

Can I take this whilst pregnant?

No, we recommend avoiding this product whilst pregnant as it contains Boswellia.
Food-Grown® Bone + Muscle Support
Joint health
Bone maintenance
Muscle function
Supports teeth & gums
Connective tissue support
Collagen formation
30 days supply. 90 capsules.

Free UK delivery on subscription orders. View details

Earn
points on this item - Join Wild Rewards
Healthy bones need a healthy support structure. Cue this much-loved supplement, formulated to support bones, muscles, joints, cartilage and teeth.
Scientifically proven

Ethically sourced

Founder formulated

Vegetarian

Kosher
"Bone & Muscle Support is one of my favourite products for every age and every life stage, from growth-spurting teens to gym-goers to menopausal women looking to support their bones."
Lorna Driver-Davies, Head of Nutrition
What goes in
15 key nutrients including...
Calcium and Zinc for strong bones and teeth
Magnesium to support calcium absorption
Vitamin D for immune support + calcium absorption
Selenium for a healthy immune response
Boswellia for healthy joints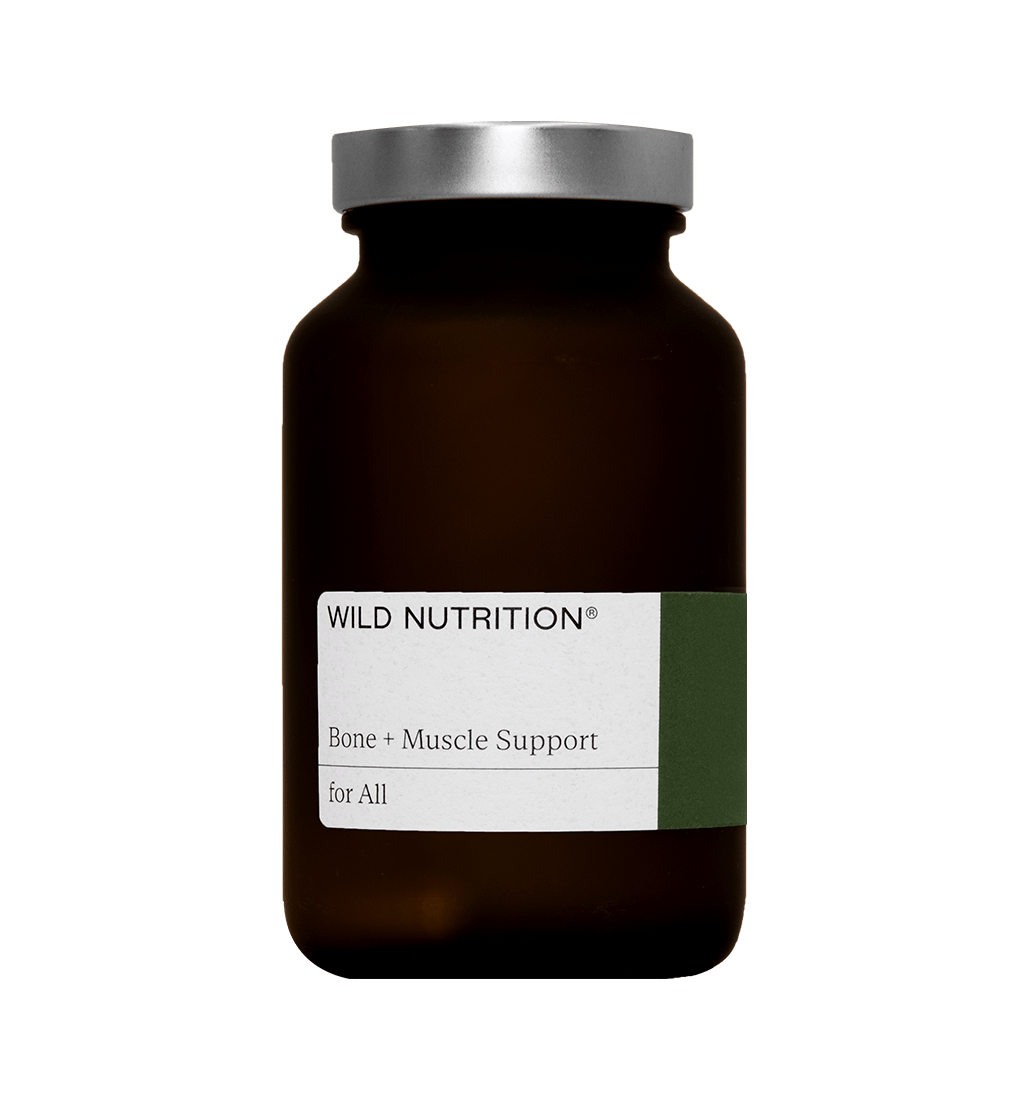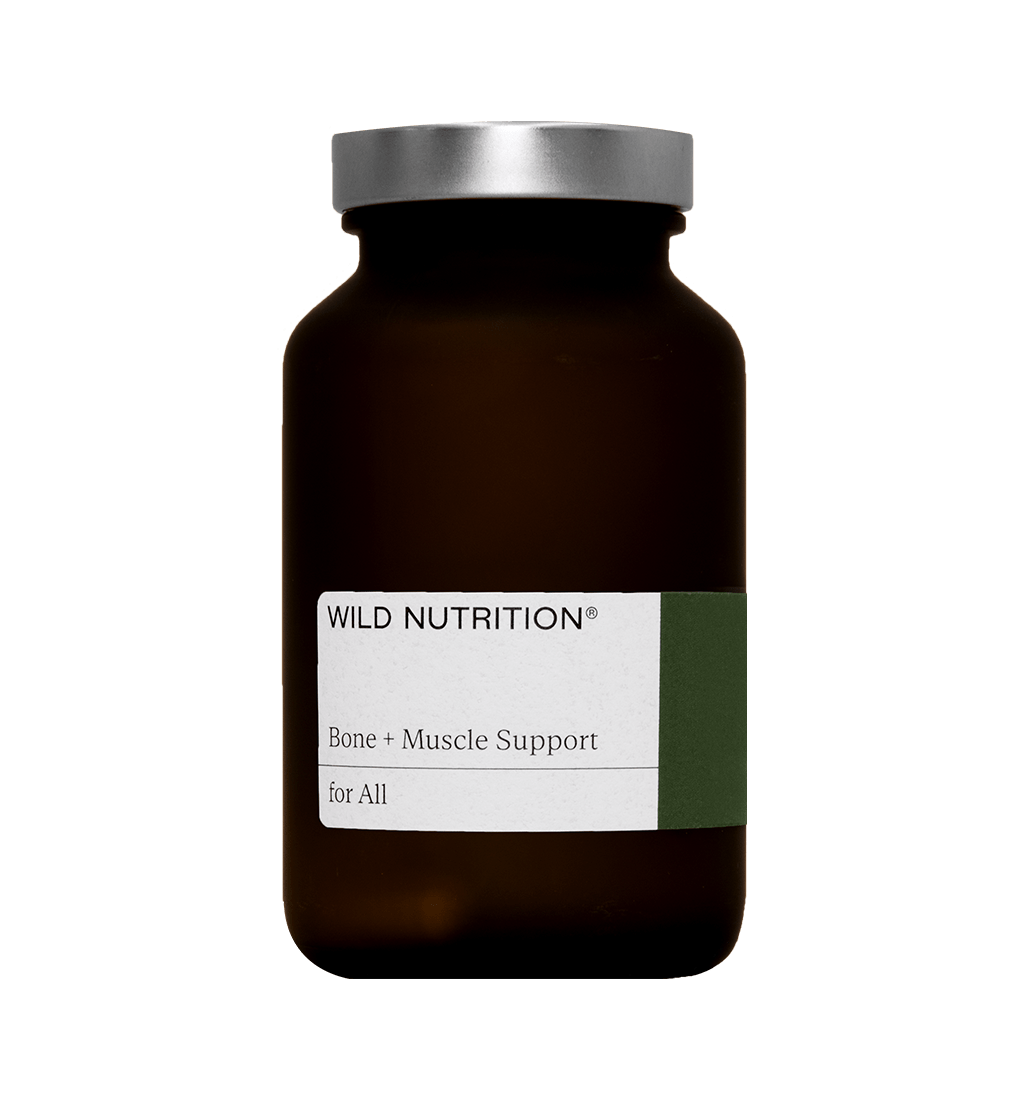 What stays out
We never use...
Added fillers or binders
Artificial preservatives or colourings
Wheat, gluten, rye, oats or corn
Sugars
Need help finding the right supplements for you?
Our expert Nutritional Therapists are here to help.
Book free consultation
Step 1
Book a free consultation
Simply follow the link and choose a suitable time to speak to a Nutritional Therapist.
Step 2
Bespoke advice for you
Our consultations offer tailored support for your health.
Step 3
Delivered to your door
Your new or updated health routine is ready to go.
Ingredients & Nutritional Information
Our Bone + Muscle Support natural ingredients
Ingredients: Lithothamnium Calcareum (Red algae) powder (providing Calcium), Purified Seawater (providing Magnesium), Nutrient-enhanced Yeast (providing Boron, Selenium, Folic acid [as naturally occuring Folate], Manganese, Vitamin K1, Molybdenum, Vitamin B12 and Vitamin D3), Vegetable cellulose (capsule shell), Bamboo extract (providing Silicon), Nutrient-enhanced Citrus pulp (providing Vitamin C and Bioflavonoids), Boswellia Extract and Nutrient-enhanced Lactobacillus Bulgaricus (providing Zinc and Copper).
Cautionary Advice: If you are pregnant, breastfeeding, taking medication or under medical supervision, consult your doctor before taking any food supplement. We advise taking your supplements a minimum of 2 hours after taking any medication. Keep out of sight and reach of children. Do not take if seal is broken. Store in a cool, dry place away from direct sunlight. Food supplements are not to be used as a substitute for a varied, balanced diet and healthy lifestyle. For best before date & batch number please see base of packaging.
Free from: Artificial colours, sugars, flavourings & preservatives. Contains no live yeast at time of manufacture. Kosher and suitable for Vegetarians.
Nutritional Claims: Contains Magnesium which contributes to normal muscle function, maintenance of normal teeth and normal bones. Contains Vitamin C which contributes to normal collagen formation for the normal function of cartilage. Zinc contributes to the normal function of the immune system. Copper contributes to maintenance of normal connective tissues. Vitamin D contributes to normal absorption/utilisation of calcium and phosphorus.
*NRV = Nutrient Reference Value
µg = microgram
mg = milligram
Nutritional information
3 capsules provide
% NRV*
Vitamin D3
10μg
200
Vitamin C
30mg
38
Vitamin K
50μg
67
Folic Acid
100μg
50
Vitamin B12
5μg
200
Calcium
150mg
19
Magnesium
150mg
40
Zinc
5mg
50
Copper
0.25mg
25
Manganese
0.5mg
25
Selenium
40μg
73
Molybdenum
8μg
16
Boron
3mg
Silicon
80mg
Boswellia extract
100mg
Bioflavonoids
3mg
Energy, fat, protein, carbohydrate
N/A