Our Men's Daily Multi Nutrient has had an upgrade. Along with the existing full spectrum of vitamins, minerals and herbs, we've increased Magnesium and natural Calcium to support healthy bones, teeth and energy. 
Key benefits
Healthy testosterone levels

The mineral Zinc supports normal testosterone levels in the blood, as well as contributing to the maintenance of your skin, hair and nails.

Support for brain function and nervous system

Zinc also contributes to normal cognitive function while Magnesium and B Vitamins support the normal functioning of your nervous system.

Supports the immune system

Selenium, Zinc and Vitamin C support the normal function of the immune system.

Supports energy, reduces fatigue

B Vitamins, Magnesium and Vitamin C all support energy-yielding metabolism along with the reduction of tiredness and fatigue.
How to take our Food-Grown Daily Multi Nutrient

Dose

2 capsules taken together.

Any time of day. Do not exceed the recommended daily intake.

Works well with

Any of our products.

For particular health needs it works particularly well with:

Immune support
Vitamin D
Pure Strength Omega 3
Multi Strain Biotic
Magnesium
KSM-66® Ashwagandha

How to take it

With or without food. Our nutrients are made from food, so you don't need to take them with a meal.

You're bound to have a few questions

Find out all you need to know about our Wild Nutrition products or ask your own question below.

How has this formula changed from your Men's Food-Grown® Daily Nutrient?

We pay close attention to research and clinical needs so we've given our Men's Daily Multi Nutrient an upgrade. Alongside the existing full spectrum of vitamins, minerals and herbs specifically formulated for the nutritional demands of men. The magnesium and natural Calcium amount has been increased to support healthy bones, teeth and energy.

Do I need to take extra Vitamin D with this?

This is safe to combine with our Vitamin D, and you may choose to supplement with extra depending on the time of year. Supplementation of Vitamin D is officially recommended during autumn and winter, however if you are unwell, staying indoors for extended periods of time, elderly or have dark skin, you will need to supplement all year round.

Can my teenage son take this?

Teenagers have different physical and emotional demands to adults, requiring higher levels of certain nutrients as they grow and develop, so we recommend our Daily Multi Nutrient for Teen Boys for all teenage boys up to the age of 18.

What is the difference between this and your Men's Food-Grown Daily Multi Nutrient 45+?

This formula has been expertly formulated to reflect the change in nutrient demands of young men (up to the age of 44) whereas our Men's Daily Multi Nutrient 45+ has been formulated with the specific nutrient demands of men over the age of 45 in mind.

I eat well, do I really need to take a multinutrient supplement?

Multi nutrients are particularly important for busy lifestyles, when we have less time to eat a fresh and balanced meal, as well as to ensure intake of important nutrients at times of higher demand. The increase of intensive farming methods across the world has also meant that sadly our soil is gradually decreasing in essential nutrients such as Selenium, meaning that sometimes even the freshest fruit and vegetables may not always contain optimal amounts of vitamins and minerals. Supplementing with a powerful all-round multivitamin can ensure intake of vital nutrients in the diet.
Food-Grown® Men's Daily Multi Nutrient
Normal testosterone
Energy metabolism
Immune support
Bone and muscle support
Mental resilience
Contains Cordycep mushrooms
60 capsules. 30 days supply.

Free UK delivery on subscription orders. View details

Earn
points on this item - Join Wild Rewards
Our Men's Daily Multi Nutrient has had an upgrade. Along with the existing full spectrum of vitamins, minerals and herbs, we've increased Magnesium and natural Calcium to support healthy bones, teeth and energy. 
Formulated by our Nutritionist & Founder

Vegetarian

Cruelty free

Free from milk

GM free

Free from common allergens
"I discovered wild nutrition by chance, within the first week it was WOOOOW. I feel so much better in everyday life, more relaxed, alert and vibrant in person."
Edward Dillon- Ultra Endurance Sportsman
What goes in
29 key nutrients including...
Pantothenic Acid for mental performance
Magnesium for muscle function
Zinc for testosterone levels
B Vitamins for nervous system support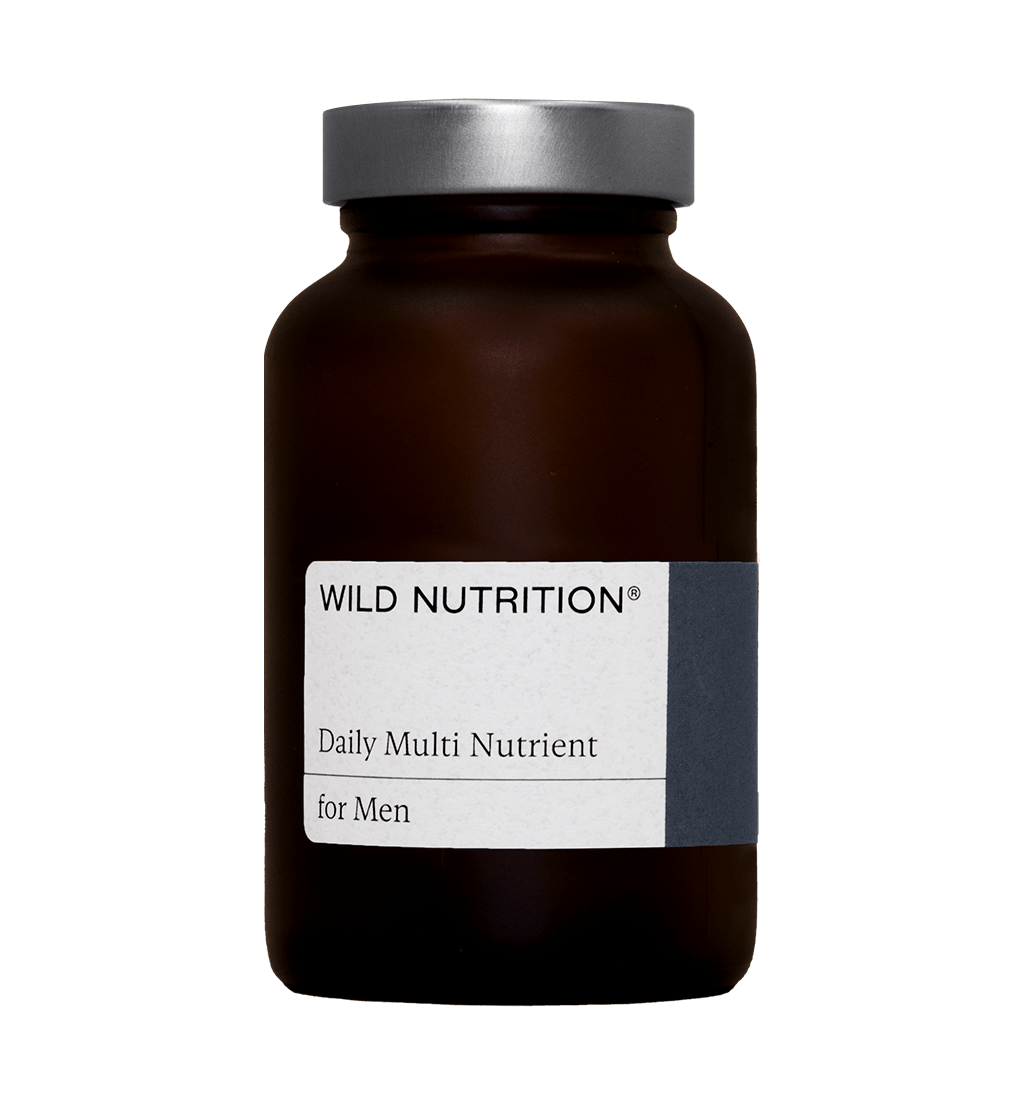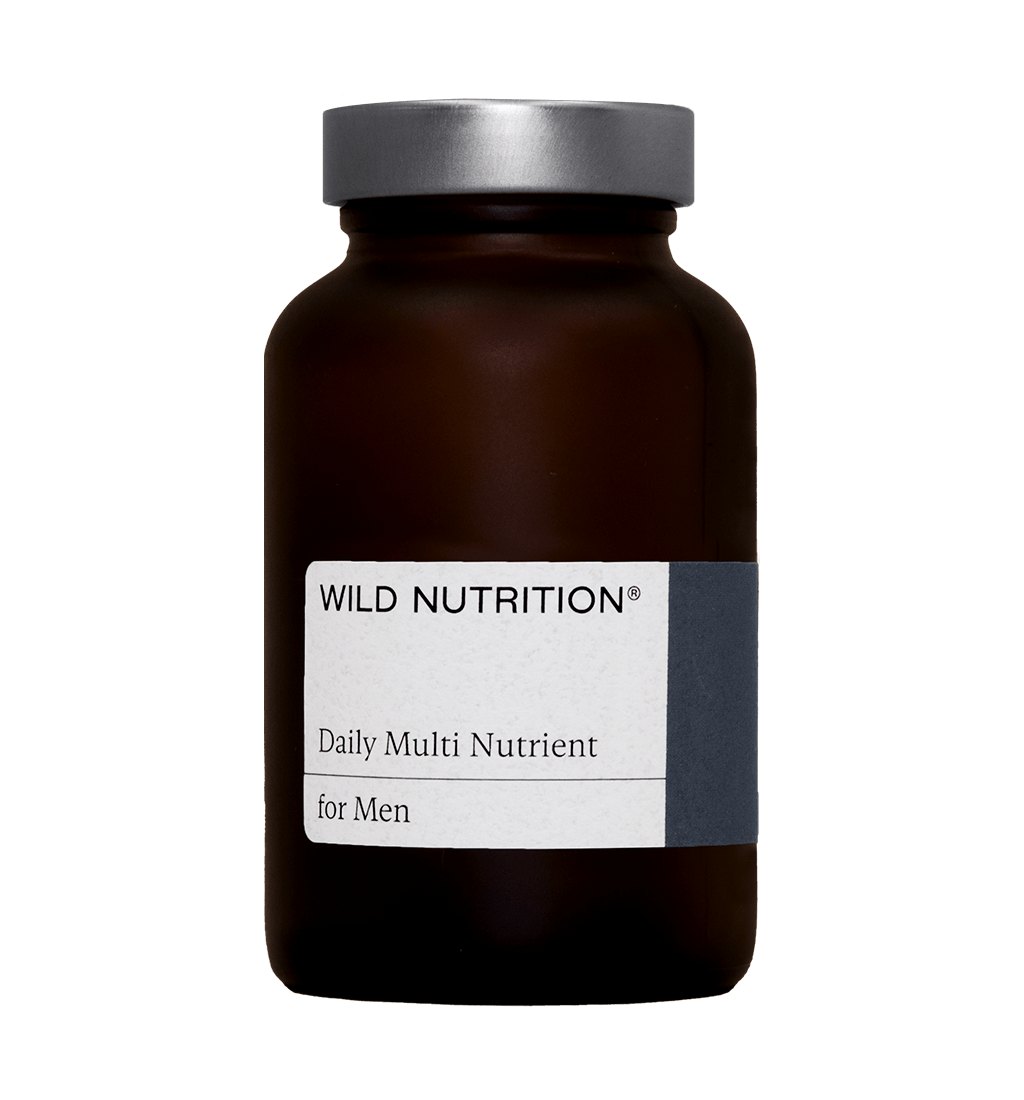 What stays out
We never use...
Added fillers or binders
Artificial preservatives or colourings
Wheat, gluten, rye, oats or corn
Sugars
Need help finding the right supplements for you?
Our expert Nutritional Therapists are here to help.
Book free consultation
Step 1
Book a free consultation
Simply follow the link and choose a suitable time to speak to a Nutritional Therapist.
Step 2
Bespoke advice for you
Our consultations offer tailored support for your health.
Step 3
Delivered to your door
Your new or updated health routine is ready to go.
INGREDIENTS & NUTRITIONAL INFORMATION
Our Food-Grown Daily Multi Nutrient natural ingredients
INGREDIENTS: Lithothamnium Calcareum (Red algae) powder (providing Calcium) Nutrient- enhanced yeast (providing Selenium, Iron, Inositiol, Chromium GTF, Niacin, Manganese, Riboflavin, Vitamin K1, Vitamin B6, CoEnzyme Q10, Biotin, Folic acid [as naturally occuring Folate], Thiamin, Molybdenum, Iodine, Vitamin B12 and Vitamin D3), Purified Seawater (providing Magnesium), Nutrient-enhanced Lactobaccillus Bulgaricus (providing Zinc, Copper and Pantothenic acid), Vegetable cellulose (capsule shell), Nutrient-enhanced Citrus pulp (providing Vitamin C), Cordyceps sinensis powder, Reishi (Ganoderma lucidum) Mushroom powder, Carrot concentrate (providing Beta-carotene), Nutrient-enhanced Yellow Pea (Pisum Sativum) preparation (providing Vitamin E) and Alpha Lipoic acid.
CAUTIONARY ADVICE: If you are pregnant, breastfeeding, taking medication or under medical supervision, consult your doctor before taking any food supplement. We advise taking your supplements a minimum of 2 hours after taking any medication. Keep out of sight and reach of children. Do not take if seal is broken. Store in a cool, dry place away from direct sunlight. Food supplements are not to be used as a substitute for a varied, balanced diet and healthy lifestyle. For best before date & batch number please see base of packaging..
FREE FROM ADDED: Artificial colours, sugars, flavourings & preservatives. Contains no live yeast at time of manufacture. Kosher and suitable for Vegetarians.
*NRV = Nutrient Reference Value
µg = microgram
mg = milligram
α-TE = alpha tocopherol equivalents
NE = niacin equivalents
Nutritional Information
Average per daily dose
% EU NRV*
Vitamin D
1.5μg
30
Vitamin E
5mg a-TE
42
Vitamin C
30mg
38
Vitamin K
100ug
133
Thiamin (Vitamin B1)
1.4mg
127
Riboflavin (Vitamin B2)
1.6mg
114
Niacin
5mg NE
31
Vitamin B6
2mg
143
Folic Acid
60μg
30
Vitamin B12
1μg
40
Biotin
45μg
90
Pantothenic Acid
5mg
83
Calcium
120mg
15
Magnesium
56.3mg
15
Iron
3mg
21
Zinc
4mg
40
Copper
0.5mg
50
Manganese
1mg
50
Selenium
100μg
182
Chromium GTF
50μg
125
Molybdenum
10μg
20
Iodine
20μg
13
Inositol
10mg
Alpha Lipoic Acid
20mg
Beta-Carotene
1.5mg
Reishi Mushroom powder
100mg
Cordyceps Sinensis powder
200mg
L-Methionine
10mg
CoEnzyme Q10
0.4mg
Bioflavonoids
3mg
Energy, fat, protein, carbohydrate
N/A