Unless your children are fond of oily fish 2-3 times each week, growing minds and bodies need a high quality source of Omega 3 to support the health of their heart, brain and eyes.
Key benefits
Essential fatty acids

Unless your child is eating two portions of oily fish each week, supplementation with Omega 3 essential fatty acids is recommended for the normal function of the brain and vision.

Ethically and sustainably sourced

We source our Alaskan Pollock through the Marine Stewardship Council to help protect the oceans around us and safeguard seafood supplies. Freshness and purity are paramount to our sustainably-sourced formula.

Ideal ratio of DHA and EPA

In infancy and young children you need essential fatty acids with additional DHA to support your eye and brain development and a healthy heart.

Founder formulated

Our founder Henrietta Norton, herself a mother to three boys, knows first-hand the importance of a quality source of Omega 3 in supporting growing minds and bodies.
How to take our Child's Strength Omega 3

Dose

1 softgels taken any time of day. Do not exceed the recommended daily intake.




Works well with

Many of our products.

For particular health needs, works particularly well with:

• Daily Multi Nutrient for Children

• Organic Protein + Superfood Powder

How to take it

With or without food. Our nutrients are made from food, so you don't need to take them with a meal.

You're bound to have a few questions

Find out all you need to know about our Wild Nutrition products or ask your own question below.

Does my child need to take this if they already eat oily fish?

Unless your child is eating at least 2 portions of oily fish per week, then they are likely to be low in Omega 3 and should therefore be supplementing to avoid any deficiencies. It is even more critical that infants and children have excellent Omega 3 levels, as they are still growing and developing all of their organs, but especially their brain and cognitive behaviour. It's very hard to obtain Omega 3 from diet, unless you are consuming oily fish, so if your child does not like the taste of fish, a supplement may be a good option. If you wish to supplement on top of your child eating oily fish, that is safe too.

My child can't swallow soft gels - how else can they take this?

The softgels are suitable for a child who is not at risk of choking, and the softgels can be chewed. A good tip is keeping them in the fridge to enhance taste. The oil is very neutral, fresh and non fishy and we find children like them.

Does this contain PCBSs or any other toxins or heavy metals?

No, our fish oil has been independently tested and certified to be free of any toxic substances. Our certification exceeds the official EU & UK requirements, so you can rest assured that our formula is exceptionally pure.

My child has learning issues - is this helpful?

Yes it is. 60 % of the brain is fat and Omega 3 plays a significant role in cognitive behavior and studies have shown its positive effects on behavior such as intelligence, focus, concentration, reading ability and the promotion of good behavior. Children on learning spectrums (or autism spectrum) will require more Omega 3 and children with speech delays, tics, stammers or similar, should be taking Omega 3. Children with ADHD, who have lower serum levels of omega-3 fatty acids, have been shown to have more behavioural problems.
Food-Grown® Omega 3 for Children
Supports brain function
Supports eye health
Supports heart function
Body-preferred ratio
Low temperature production
MSC sustainably sourced
30 capsules. 30 day supply.

Free UK delivery on subscription orders. View details

Earn
points on this item - Join Wild Rewards
Unless your children are fond of oily fish 2-3 times each week, growing minds and bodies need a high quality source of Omega 3 to support the health of their heart, brain and eyes.
Ethically sourced

Scientifically proven

Founder formulated

Cruelty free

No fillers of binders
"Freshness, purity and sustainability are paramount to this formulation, which has played a vital role in the health of many of my younger clients and little customers, as well as my own three young boys!."
Henrietta Norton, Founder & Formulator
What goes in
2 key nutrients including...
Omega 3 Eicosapentaenoic acid (EPA)
Omega 3 Docosahexaenoic acid (DHA)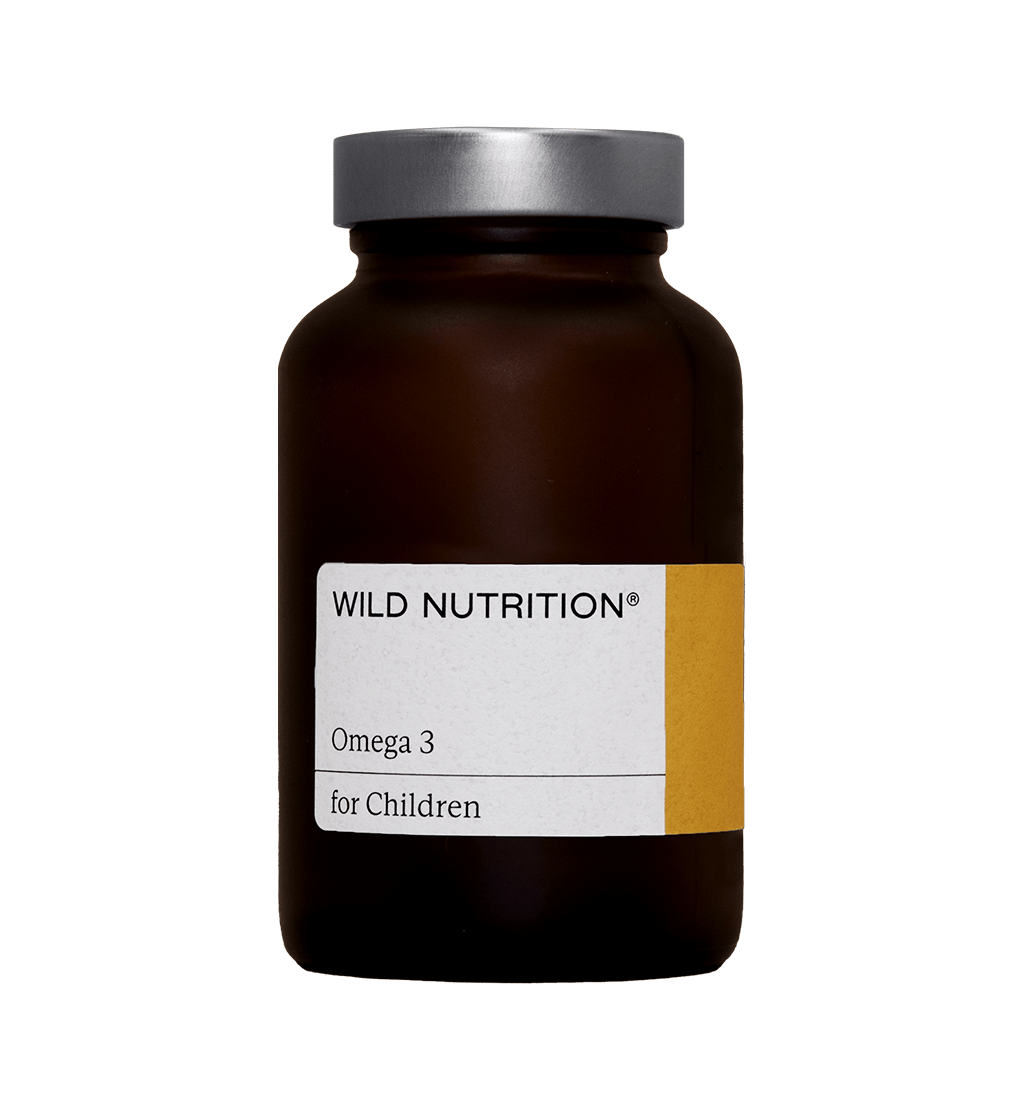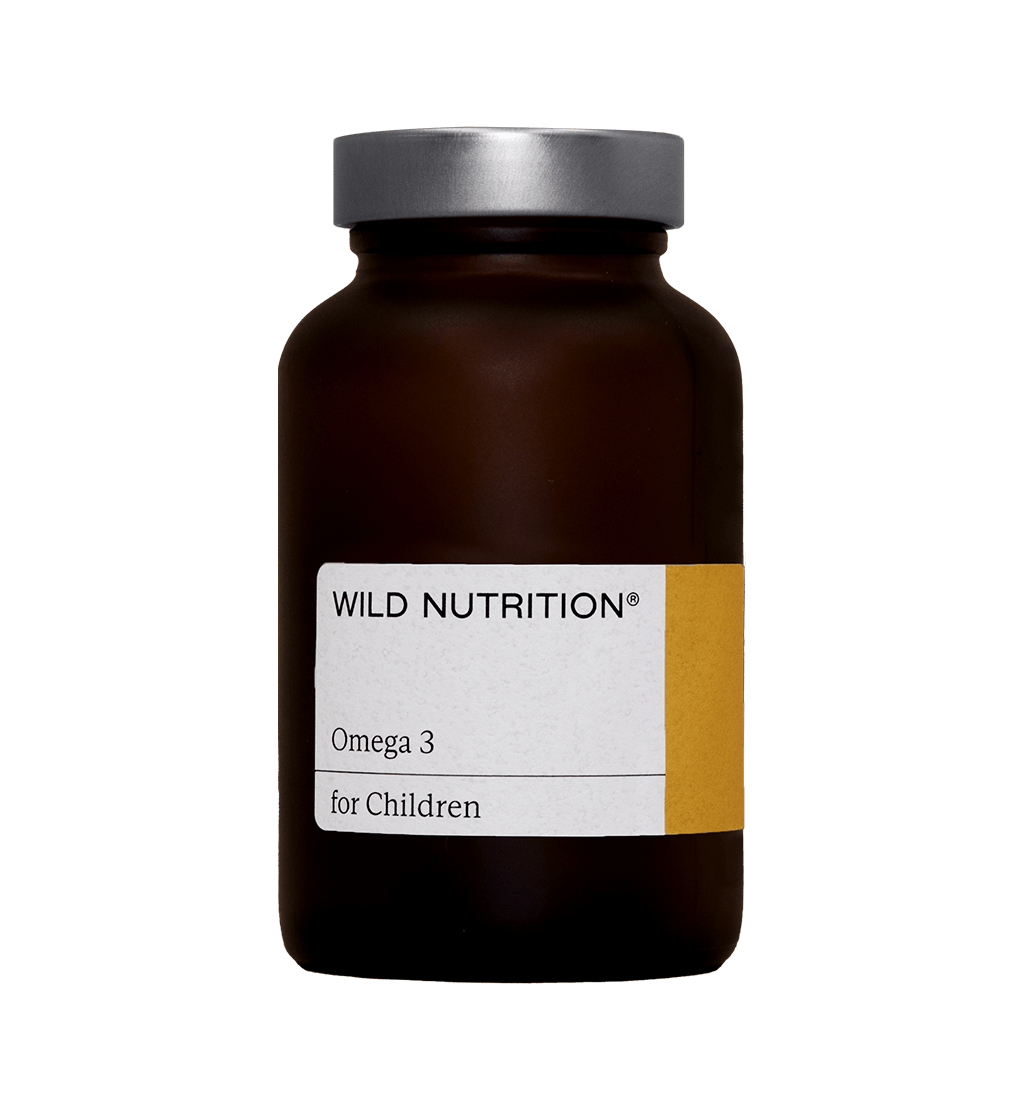 What stays out
We never use...
Added fillers or binders
Artificial preservatives or colourings
Wheat, gluten, rye, oats or corn
Sugars
Need help finding the right supplements for you?
Our expert Nutritional Therapists are here to help.
Book free consultation
Step 1
Book a free consultation
Simply follow the link and choose a suitable time to speak to a Nutritional Therapist.
Step 2
Bespoke advice for you
Our consultations offer tailored support for your health.
Step 3
Delivered to your door
Your new or updated health routine is ready to go.
Ingredients & Nutritional Information
Our Child's Strength Omega 3 natural ingredients
Ingredients: Concentrated Wild Alaska Pollock oil providing Omega-3 (Fish), Capsule Shell (Gelatin [Fish], Glycerol) and Antioxidant ( mixed Tocopherols).
For Allergens: See ingredients in bold
Cautionary advice: If you are taking medication or under medical supervision, please consult your healthcare practitioner before taking any food supplement. This product contains fish derivatives and therefore should not be taken by people with allergies to fish or on antithrombotic drugs. Keep out of sight and reach of children. Do not take if seal broken.Store in a cool, dry place away from direct sunlight. Food supplements are not to be used as a substitute for a varied, balanced diet and healthy lifestyle. For best before date & batch number please see base of packaging.
Free from added: Artificial colours, sugars, flavourings & preservatives.
Nutritional claim:
Contains DHA which contributes to maintenance of normal brain function and contributes to the maintenance of normal vision, the beneficial effect is obtained with a daily intake of 250 mg of DHA.
*NRV = Nutrient Reference Value
mg = milligram
Nutritional information
1 capsule provides
% NRV*
Eicosapentaenoic acid (EPA)
125mg
N/A
Docosahexaenoic acid (DHA)
250mg
N/A
Energy, fat, protein, carbohydrate
N/A