Formulated with 30 billion 'friendly' bacteria from eight live bacterial strains, our powerful Multi Strain Biotic naturally complements the flora found in the gut, vagina and mouth.
Key benefits
Live bacteria

80% of our immune system is housed within our gut. The live bacteria in Multi Strain Biotic naturally complement the existing gut flora present in a healthy digestive system.

Bile and gastric acid resistant

This formulation is able to withstand stomach and bile acids to ensure your gut receives all eight live bacteria strains.

Founder formulated

Our founder Henrietta Norton sourced the optimal combination of eight live bacteria which don't require refrigeration and are known for their quality and stability.

Food-Grown®

Our pioneering Food-Grown® method mimics nature by bonding nutrients at low temperatures into real, live food, we retain whole-plant goodness in a digestible form your body easily recognises and uses.
How to take our Multi Strain Biotic

Dose

1 capsule taken before food. Do not exceed the recommended daily intake.

Works well with

Many of our products.

For particular health needs it works particularly well with:

Daily Multi Nutrient
Energy Support
Complete Beauty Support

You're bound to have a few questions

Find out all you need to know about our Wild Nutrition products or ask your own question below.

How has this formula been improved?

The great formula remains the same, it is the format that has changed. We listen to your feedback and moved from a powder into a single capsule. If you struggle swallowing capsules you can still empty this into your drink or food. It also means if you buy the Multi Strain Biotic at the reduced subscription price, you'll receive monthly refills through your letter box instead of a jar.

No, this product is not strictly vegan. Our final product contains no milk proteins or enzymes, however the bacteria present in this formula are originally produced from milk.

Can I take this at the same time as my other supplements?

Can I take this alongside antibiotics or other medications?

Yes – although we recommend completing your course of antibiotics first.

Are your probiotics 'live'?

All our beneficial bacteria are 'micro encapsulated' with a protective coating and freeze dried in order to improve their stability and absorption, and are therefore gastric and bile acid resistant.
Food-Grown® Multi Strain Biotic
8 microbiotic strains
30 billion colony forming units
Research-led formulation
Gastric acid resistant
Supports alongside medication
Easy capsule format
30 capsules. 30 days supply.

Free UK delivery on subscription orders. View details

Earn
points on this item - Join Wild Rewards
Formulated with 30 billion 'friendly' bacteria from eight live bacterial strains, our powerful Multi Strain Biotic naturally complements the flora found in the gut, vagina and mouth.
Scientifically proven

Ethically sourced

Founder formulated

Vegetarian
"A healthy gut is intrinsic to our overall health, so it was vital for me to formulate an excellent biotic."
Henrietta Norton, Founder & Formulator
What goes in
8 key nutrients including...
Lactobacillus casei
Lactobacillus rhamnosus
Streptococcus thermophilus
Bifidobacterium breve
Lactobacillus acidophilus
Bifidobacterium longum
Lactobacillus bulgaricus
Enterococcus faecium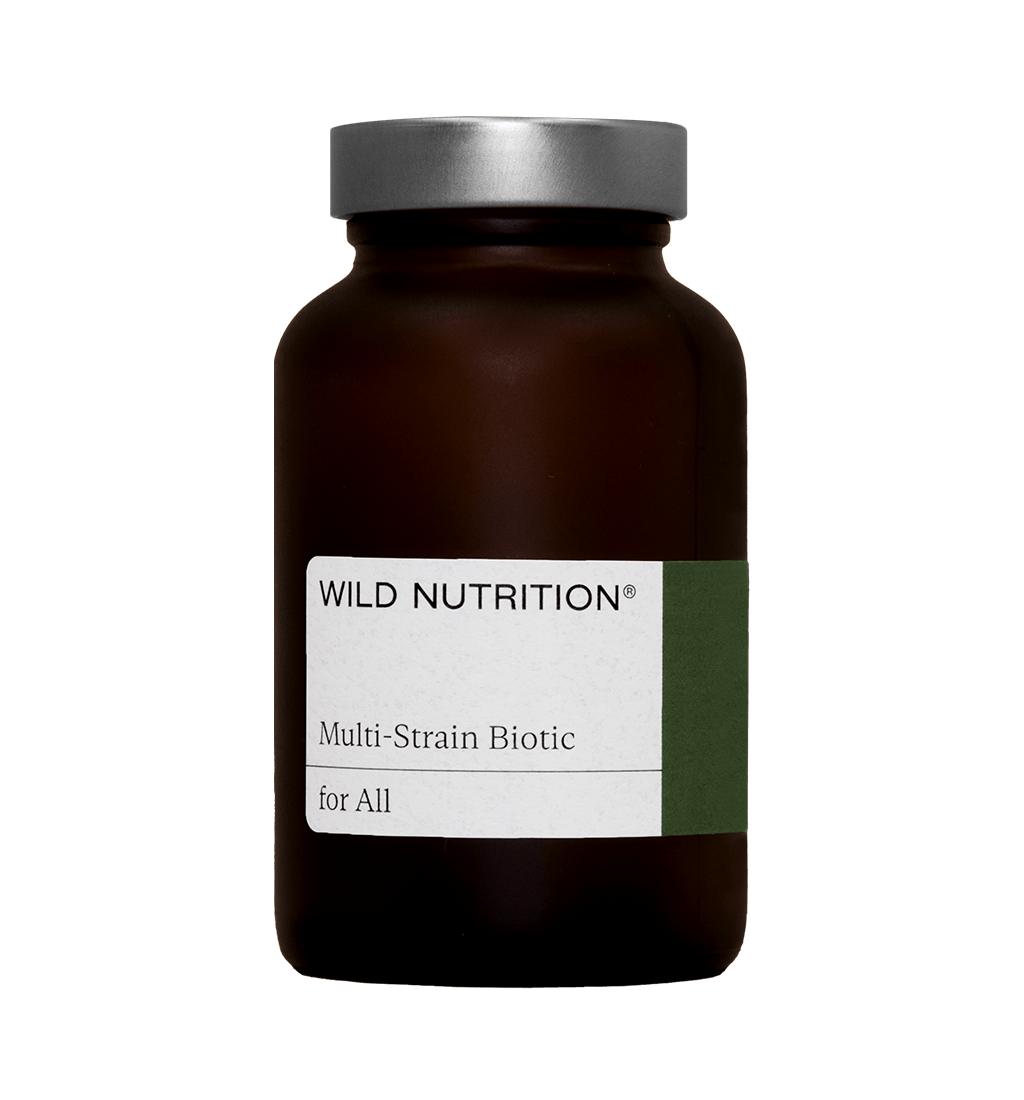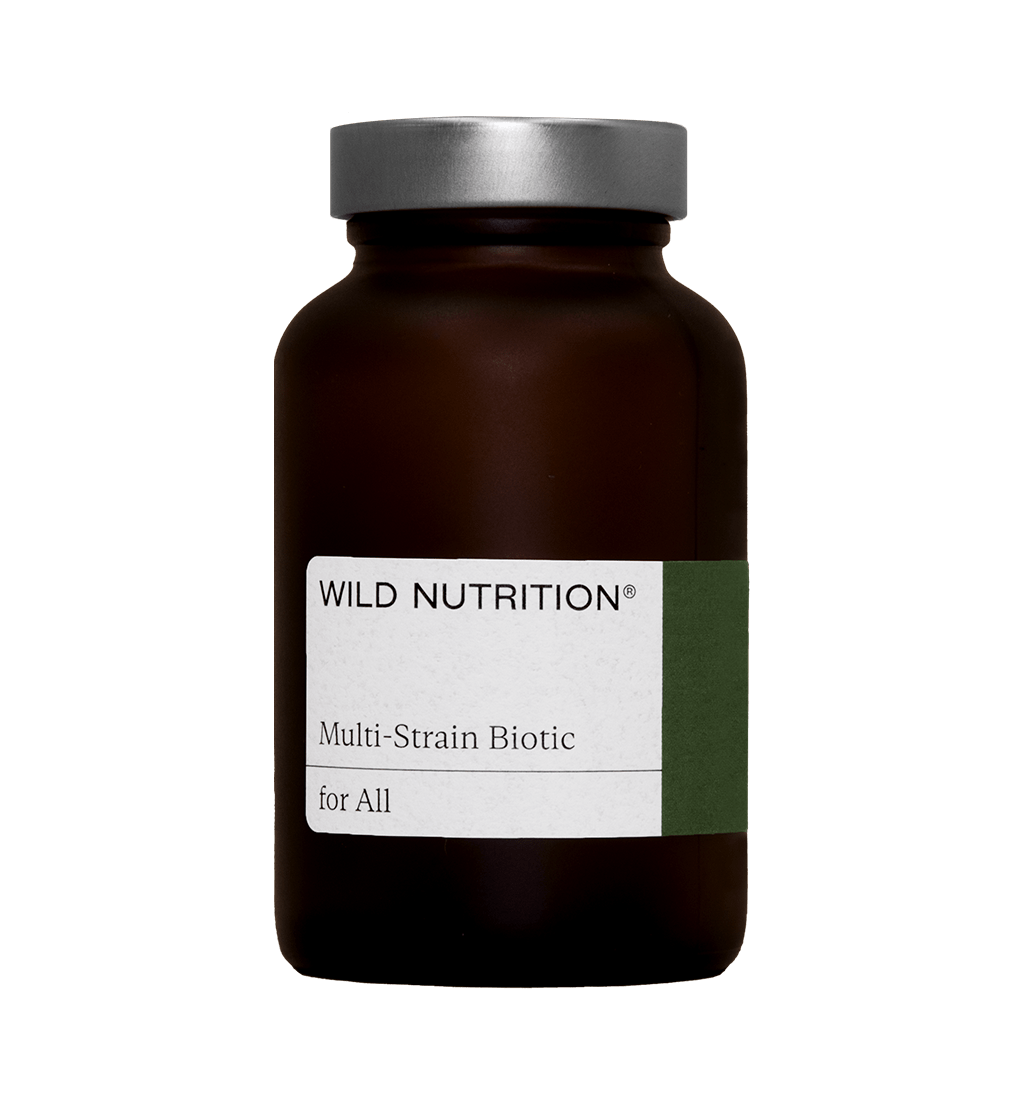 What stays out
We never use...
Added fillers or binders
Artificial preservatives or colourings
Wheat, gluten, rye, oats or corn
Sugars
Need help finding the right supplements for you?
Our expert Nutritional Therapists are here to help.
Book free consultation
Step 1
Book a free consultation
Simply follow the link and choose a suitable time to speak to a Nutritional Therapist.
Step 2
Bespoke advice for you
Our consultations offer tailored support for your health.
Step 3
Delivered to your door
Your new or updated health routine is ready to go.
Ingredients & Nutritional Information
Our Multi Strain Biotic natural ingredients
Ingredients: Blend of live bacteria (Lactobacillus acidophilus, Enterococcus faecium, Lactobacillus rhamnosus, Streptococcus thermophilus, Bifidobacterium breve, Lactobacillus casei, Lactobacillus bulgaricus, Bifidobacterium longum, Corn starch), Heat-treated brown rice powder and Vegetable cellulose (capsule shell).
Cautionary advice: If you are pregnant, breastfeeding, taking medication or under medical supervision, consult your doctor before taking any food supplement. We advise taking your supplements a minimum of 2 hours after taking any medication. Keep out of sight and reach of children. Do not take if seal is broken. Store in a cool, dry place away from direct sunlight. Food supplements are not to be used as a substitute for a varied, balanced diet and healthy lifestyle. For best before date & batch number please see base of packaging.
Free from: Artificial colours, sugars, flavourings
*NRV = Nutrient Reference Value
Nutritional information
1 Capsule provides guaranteed 30 Billion CFU (3x10 10) Bacteria consisting of:
Lactobacillus casei
7.5
Lactobacillus rhamnosus
4.5
Streptococcus thermophilus
3
Bifidobacterium breve
0.75
Lactobacillus acidophilus
1.5
Bifidobacterium longum
0.75
Lactobacillus bulgaricus
9
Enterococcus faecium
3
Energy, fat, protein, carbohydrate
N/A