Key benefits
Energise your life with optimal thyroid health

Your thyroid plays a central role in energy production and the escape from fatigue. Control your weight properly and support healthy skin, hair and nails.

Essential for female health life stages

Iodine is involved in female hormone balance and is necessary for healthy menstruation and ovulation. In pregnancy, iodine is needed for a mother's thyroid to nurture her developing and growing baby.

Optimise focus and memory

Iodine works to optimise cognitive pathways, which results in increased focus and productivity.

Supercharge your diet

Even if you eat iodine rich foods (dairy, meat and fish) everyone in the UK has the potential to be statistically low. If you avoid those foods, you will need to supplement.
How to take our Food-Grown Iodine

Dose

1 capsule.
Any time of day.

Works well with

Food Grown Daily Multi Nutrient

Food Grown Daily Multi Nutrient 45+

Vegan Protein & Superfood Blend

Botanical Menopause Complex

How to take it

With or without food. Our nutrients are made from food, so you don't need to take them with a meal.

You're bound to have a few questions

Find out all you need to know about our Wild Nutrition products or ask your own question below.

Can I use this product if on thyroid medication?

We recommend speaking to our Nutritional Team first, who can advise on what would be most suitable for you.

Can I take this with your other Daily Multi Nutrients?

Yes, this can be taken alongside our other Daily Multi Nutrients supplements.

Can my teenager take this?

Yes, they can. This product is also safe to take alongside our Teengirl & Teenboy Food-Grown Daily Multi Nutrients. Please consult your specialist or one of our expert nutritional therapists for dosing information.

Is this product safe to use with HRT?

Yes. Please always consult your specialist or one of our expert nutritional therapists when selecting supplementation to be taken alongside hormonal therapy.

Can I take this whilst trying to conceive?

Yes, and you can also take this alongside our Food-Grown Fertility.

Can I take this whilst I am pregnant?

Yes. This product is safe and iodine deficiency has been identified as a common problem during pregnancy. Please also consult your specialist/GP when choosing pregnancy supplementation.

Can I take this whilst breast-feeding?

Yes. you can. This is an excellent formula for counteracting iodine deficiency which can be common during pregnancy and breastfeeding. You can also take this alongside our Food-Grown Breast-Feeding Complex.
Shop from our community @wildnutritionltd #wildnutrition
As seen on Instagram
What goes in
2 key nutrients including....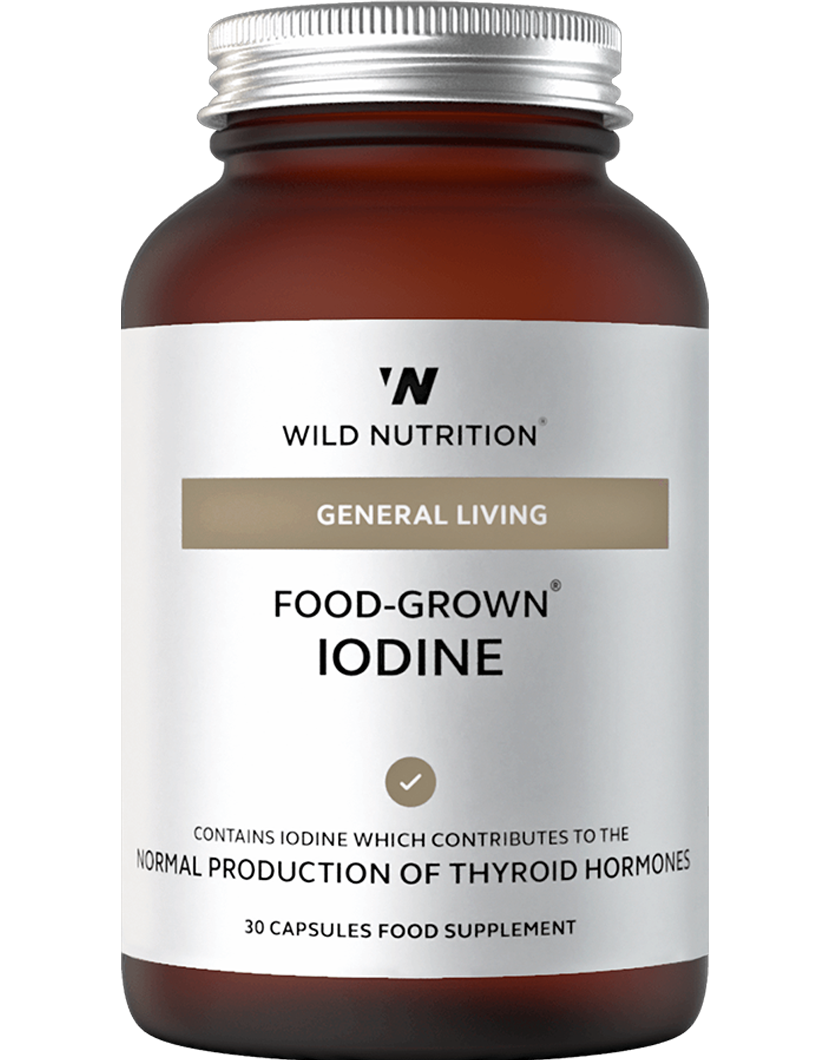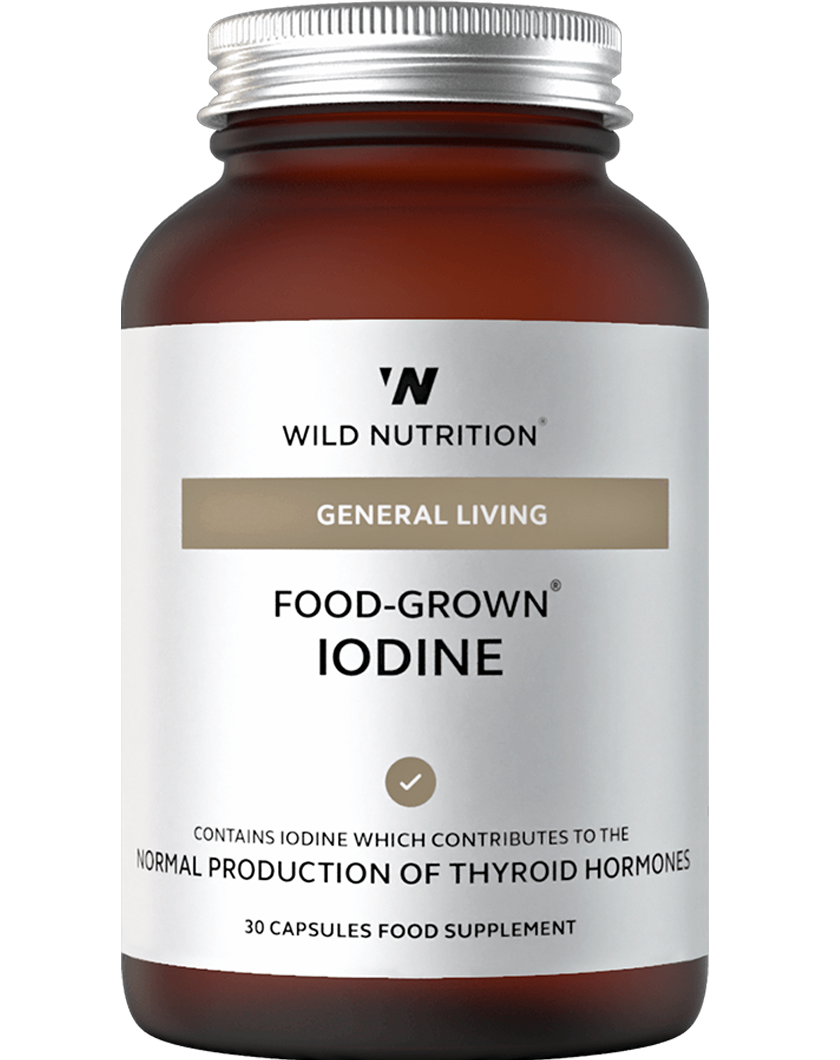 What stays out
We never use...
Added fillers, binders, colours, flavours and preservatives
Wheat, gluten, rye, oats or corn
Dairy, soya
Synthetic nutrients
Sugars
INGREDIENTS & NUTRITIONAL INFORMATION
Our Food-Grown Iodine natural ingredients
Our Food-Grown Iodine natural ingredients
Mineral-enhanced Yeast providing iodine; Vegetable cellulose (capsule shell).

Cautionary advice: If you are taking medication or under medical supervision, please consult your healthcare practitioner before taking any food supplement. Store in a cool, dry place away from direct sunlight. Keep out of reach of children. Food supplements are not to be used as a substitute for a varied, balanced diet and healthy lifestyle.


*NRV = Nutrient Reference Value
µg = microgram
mg = milligram
α-TE = alpha tocopherol equivalents
NE = niacin equivalents
Nutritional information
Average per daily dose
% EU NRV*
Iodine (1.5%)
150ug
100
Energy, fat, protein, carbohydrate
N/A