Our bestselling Fertility Support blends botanicals, minerals and vitamins with the recommended 400ug of Folate to provide prenatal nutritional support whilst trying to conceive. Now with increased Vitamin D, based on the latest clinical research.
Key benefits
Supports fertility and hormones

Zinc contributes to normal fertility and reproduction while Vitamin B6 helps regulate hormonal activity. Antioxidants such as Vitamin C and Selenium help protect cells from oxidative stress caused by modern pollutants.

Supports thyroid function and psychological wellbeing

Contains Iodine and Selenium to support normal thyroid function. Contains Pantothenic Acid for normal mental performance plus Thiamin to support normal psychological function whilst trying to conceive.

By women for women

Our founder and formulator Henrietta Norton, herself a mother of three, created this unique formulation to support women on their journey to motherhood.

Food-Grown®

Our pioneering Food-Grown® method mimics nature by bonding nutrients at low temperatures into real, live food, we retain whole-plant goodness in a digestible form your body easily recognises and uses.
How to take our Women's Food-Grown Fertility

Dose

2 capsules taken together.
Any time of day.

Do not exceed the recommended daily intake.

How to take it

With or without food. Our nutrients are made from food, so you don't need to take them with a meal.

Works well with

Any of our products.

For particular health needs it works particularly well with:

Vitamin D
Zinc Plus
Iron Plus
Pure Strength Omega 3
Endo Support
Premenstrual Support

You're bound to have a few questions

Find out all you need to know about our Wild Nutrition products or ask your own question below.

Does this contain the required 400ug of Folic Acid?

Yes, it does. In fact, it contains the more biologically active form of Folic Acid - Folate, naturally derived from our Food-Grown process. Folate is easier to absorb and use because it is already activated, this is especially important for some women who are not able to activate standard folic acid genetically.




Can I take this whilst pregnant?

This is safe to take when newly pregnant, however we recommend moving to our Food-Grown Pregnancy for the duration of your pregnancy as this product has been specifically formulated for conception and does not contain all the nutrients you will need during pregnancy.

Do I need to take extra Vitamin D with this product?

Women who are pregnant are required to take extra Vitamin D, so we recommend supplementing with our Food-Grown Vitamin D or Vegan Vitamin D to ensure your levels are topped up. Please contact our Nutritional Team if you would like any further advice.




Is this suitable to take during assisted fertility (such as IUI, IVF or embryo transfer)?

Yes, this is completely safe to take during assisted fertility.

Is this safe to take if I am breast-feeding my baby but looking to conceive again?

Yes, absolutely. However, as you are still breast-feeding your nutrient requirements will be intensified, so we recommend contacting our Nutritional Team for advice on which of our products might be most suitable.

Why does this product contain NAC and Methionine?

N-Acetyl Cysteine has been shown to be a beneficial supplement during preconception and early pregnancy. N-Acetyl Cysteine and other amino acids, such as L-Methionine, along with Folate, B12 and Vitamin B6 support an important biochemical process called methylation. This process plays a vital role in fertility and the development of your baby in the early weeks of pregnancy. Those who follow a vegan or vegetarian diet may not consume these amino acids as readily through their diet and will therefore especially benefit from supplementation.

Can my partner take this too?

We recommend that both partners take additional supplement support during this time, however we would suggest that your partner take our Bespoke Man Food-Grown Fertility.

How long should I take this for?

Research has shown that building up an optimum environment for conception can start up to 6 months prior, with a minimum recommended preparation time of 3 months. We therefore suggest taking this as soon as you are considering trying to conceive.

Food-Grown® Fertility Support for Women
Hormone support
Supports fertility & reproduction
Mental resilience
Energy metabolism
Antioxidant support
Reduces tiredness
60 capsules. 30 days supply.

Free UK delivery on subscription orders. View details

Earn
points on this item - Join Wild Rewards
Our bestselling Fertility Support blends botanicals, minerals and vitamins with the recommended 400ug of Folate to provide prenatal nutritional support whilst trying to conceive. Now with increased Vitamin D, based on the latest clinical research.
Scientifically proven

Ethically sourced

Botanical mushrooms

Founder formulated

Vegetarian
"Our Fertility Support is a 360 formula for preconception, addressing nutrient imbalances and the need to nourish important nutrient stores of vitamins." 
Henrietta Norton, Founder & Formulator
What goes in
31 key nutrients including...
Vitamin B6 for regulation of hormonal activity
Zinc for maintenance of normal skin
Chromium for normal blood glucose levels
Folic acid as naturally occurring Folate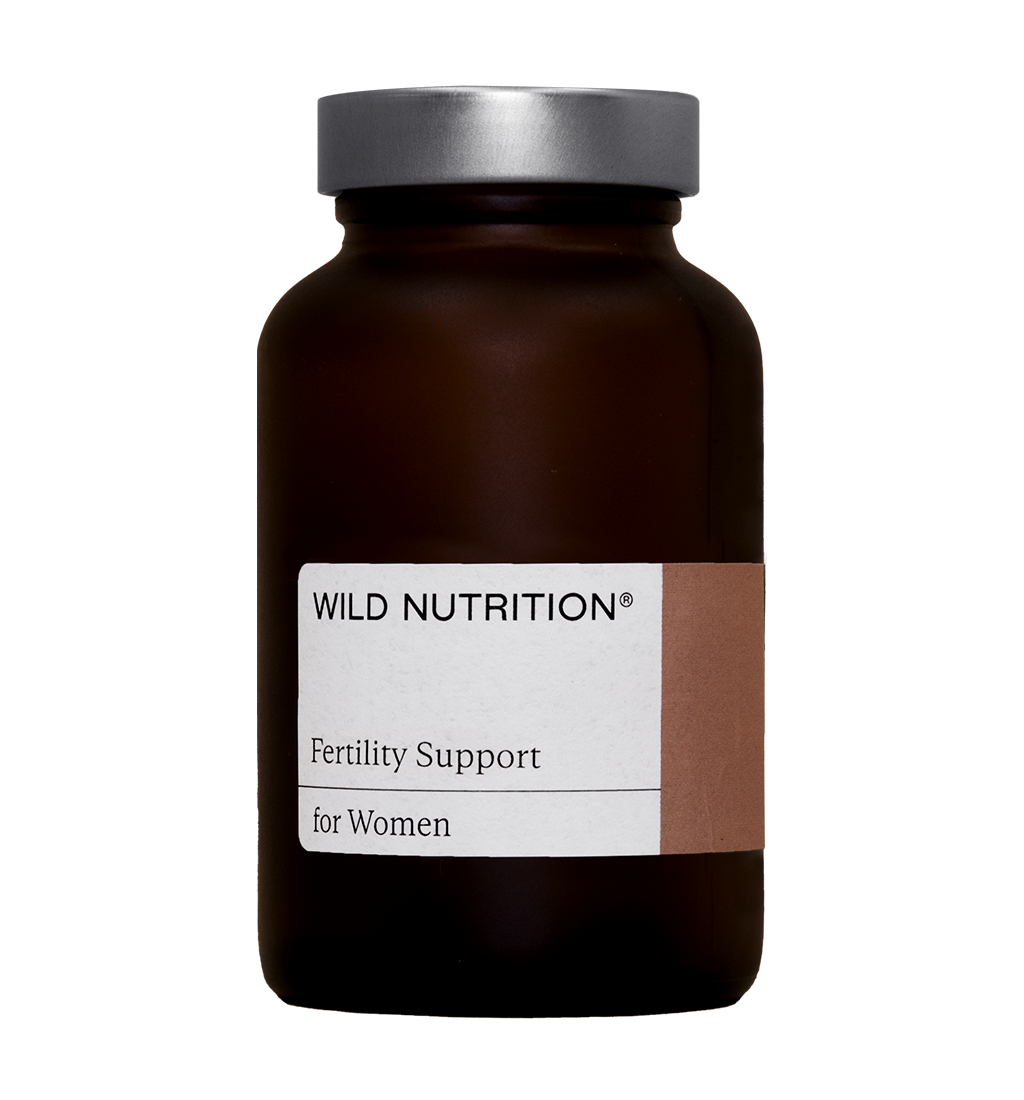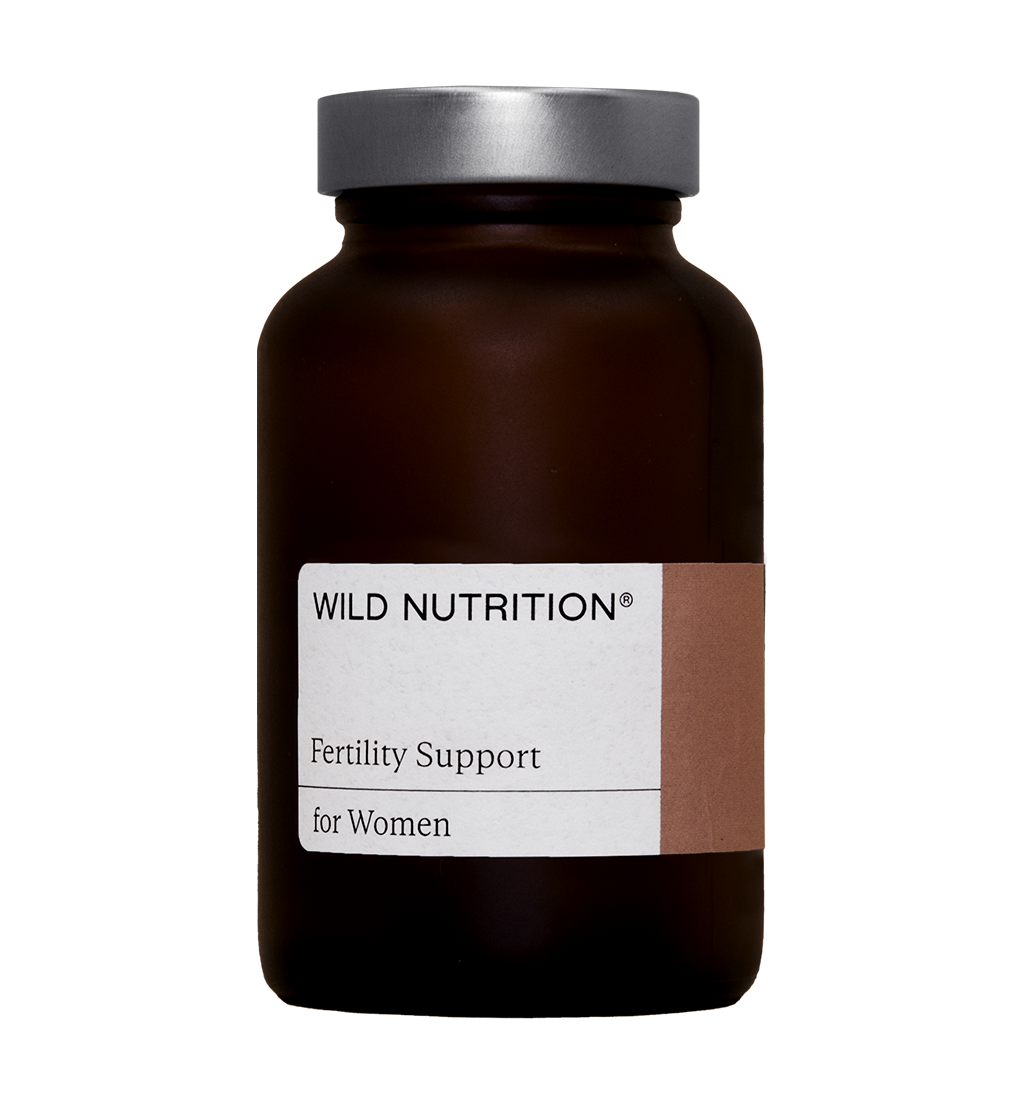 What stays out
We never use...
Added fillers or binders
Artificial preservatives or colourings
Wheat, gluten, rye, oats or corn
Sugars
Need help finding the right supplements for you?
Our expert Nutritional Therapists are here to help.
Book free consultation
Step 1
Book a free consultation
Simply follow the link and choose a suitable time to speak to a Nutritional Therapist.
Step 2
Bespoke advice for you
Our consultations offer tailored support for your health.
Step 3
Delivered to your door
Your new or updated health routine is ready to go.
INGREDIENTS & NUTRITIONAL INFORMATION
Our Food-Grown® Fertility Support for Women ingredients
Ingredients: Nutrient-enhanced Yeast (providing Iron, Selenium, Folic acid [as naturally occurring Folate], Vitamin B12, Boron, Inositol, Manganese, Choline, Riboflavin, Chromium GTF, Vitamin B6, Biotin, Iodine, Niacin, Thiamin, Molybdenum, Vitamin K1 and Vitamin D3), Lithothamnium Calcareum (Red algae) powder (providing Calcium), Vegetable cellulose (capsule shell),
Purified Seawater (providing Magnesium), Citrus pulp (providing Vitamin C and Bioflavonoids), Cordyceps Sinensis powder, N-Acetyl Cysteine, Beetroot powder, Carrot concentrate (providing Beta-carotene), Yellow Pea (Pisum Sativum) preparation (providing Vitamin E) and Vegan Fermented L-Methionine.
Cautionary advice: If you are pregnant, breastfeeding, taking medication or under medical supervision, consult your doctor before taking any food supplement. We advise taking your supplements a minimum of 2 hours after taking any medication. Keep out of sight and reach of children. Do not take if seal broken. Store in a cool, dry place away from direct sunlight. Food supplements are not to be used as a substitute for a varied, balanced diet and healthy lifestyle. For best before date & batch number please see base.
Free from: Artificial colours, sugars, flavourings & preservatives. Contains no live yeast at time of manufacture. Kosher and suitable for Vegetarians.
Nutritional claims: Contains Zinc which contributes to normal fertility and reproduction and Vitamin B6 which contributes to the regulation of hormonal activity. Contains pantothenic acid to nurture normal mental performance plus thiamin to help support normal psychological function whilst trying to conceive. Contains Selenium which contributes to the protection of cells from oxidative stress and Manganese which contributes to normal energy-yielding metabolism.
*NRV = Nutrient Reference Value
µg = microgram
mg = milligram
α-TE = alpha tocopherol equivalents
NE = niacin equivalents
Nutritional Information
2 capsules provide
% NRV*
Vitamin D3
10μg
50
Vitamin E
5mg α-TE
42
Vitamin C
30mg
38
Vitamin K
20μg
27
Vitamin B1
1.5mg
136
Vitamin B2
1.5mg
107
Niacin
2mg NE
13
Vitamin B6
2mg
143
Folic Acid
400μg
200
Vitamin B12
200μg
8000
Biotin
50μg
100
Pantothenic Acid
5mg
83
Calcium
80mg
10
Iron
3mg
21
Magnesium
40mg
11
Zinc
5mg
50
Copper
250μg
25
Manganese
1mg
50
Selenium
50μg
91
Chromium
30μg
75
Molybdenum
10μg
20
Iodine
150μg
100
Boron
0.5mg
Choline
5mg
Inositol
5mg
Beta-Carotene
1mg
N-Acetyl Cysteine
50mg
L-Methionine
30mg
Organic Beetroot powder
50mg
Cordyceps Sinensis powder
100mg
Bioflavonoids
3mg
Energy, fat, protein, carbohydrate
N/A