Menopause can be a challenging stage of life so we've reformulated our much-loved botanical Complex with increased Magnesium to support energy levels, nervous system, psychological function and healthy bones and muscles.
Key benefits
Supporting energy and mental resilience

Contains Ashwagandha to support energy and mental wellbeing. Likewise, Magnesium supports your sense of equilibrium and nervous system, while reducing tiredness and fatigue.

Immune support and bone health

Contains antioxidants including Green Tea, Milk Thistle, Ashwagandha and Turmeric to provide immune support. Also contains Turmeric for joint health and Magnesium for bone, muscle and teeth support.

Food-Grown®

Our pioneering Food-Grown® method mimics nature. By bonding nutrients at low temperatures into real, live food, we retain whole-plant goodness in a digestible form your body easily recognises and uses.

By women, for women

Having spent over 15 years in clinic helping women with the symptoms of menopause, our founder and formulator Henrietta poured her expertise into creating this beautiful botanical supplement.
How to take our Menopause Complex

Dose

2 capsules taken together.

Any time of day. Do not exceed the recommended daily intake




How to take it

With or without food. Our nutrients are made from food, so you don't need to take them with a meal.




Works well with

Many of our products.

For particular health needs it works particularly well with:

Daily Multi 45+ for Women
Pure Strength Omega 3
Vitamin D
KSM-66® Ashwagandha
Organic TurmaforteTM Turmeric
Energy Support
Complete Beauty Support




You're bound to have a few questions

Find out all you need to know about our Wild Nutrition products or ask your own question below.

What has changed in this formula from our previous Botanical Menopause Complex?

We pay close attention to research and clinical needs so we've given our menopause supplement an upgrade. We have increased the levels of Magnesium, since we know during this special lifestage you will need more psychological support, energy, and supporting your nervous system as well as support for your muscles during this time.

Can I take this with your Women's 45+ Food-Grown Daily Multi Nutrient?

No. This is a unique complex of botanicals and Food-Grown® Magnesium that has been specifically formulated to support all stages of the menopause, and is therefore not a multivitamin. This product can be taken alongside others in our range that contain the daily nutrients required for this life stage.




Can I take this whilst undergoing HRT or other types of hormone replacement?

In many cases yes, however please book a free consultation with our Nutritional Therapists for specific advice depending on the type of hormone medication you are currently taking.




Is this suitable to take during the perimenopause?

Yes, this product can be taken during the perimenopause.
Food-Grown® Menopause Complex
Mental resilience
Supports muscles and joints
Reduces tiredness and fatigue
Nervous system support
Sense of equilibrium
Supports bone and teeth
60 capsules. 30 days supply.

Free UK delivery on subscription orders. View details

Earn
points on this item - Join Wild Rewards
Menopause can be a challenging stage of life so we've reformulated our much-loved botanical Complex with increased Magnesium to support energy levels, nervous system, psychological function and healthy bones and muscles.
Ethically sourced

Scientifically proven

Founder formulated

GM Free

Vegan
"I wanted to create a formula to nurture, support and promote a more positive experience for women in this life stage ."
Henrietta Norton, Founder & Formulator
What goes in
7 key nutrients including...
Magnesium for energy and reduction of fatigue
Dong quai has long been used for female health
Turmeric powder for joints
Milk thistle and Green Tea for antioxidant support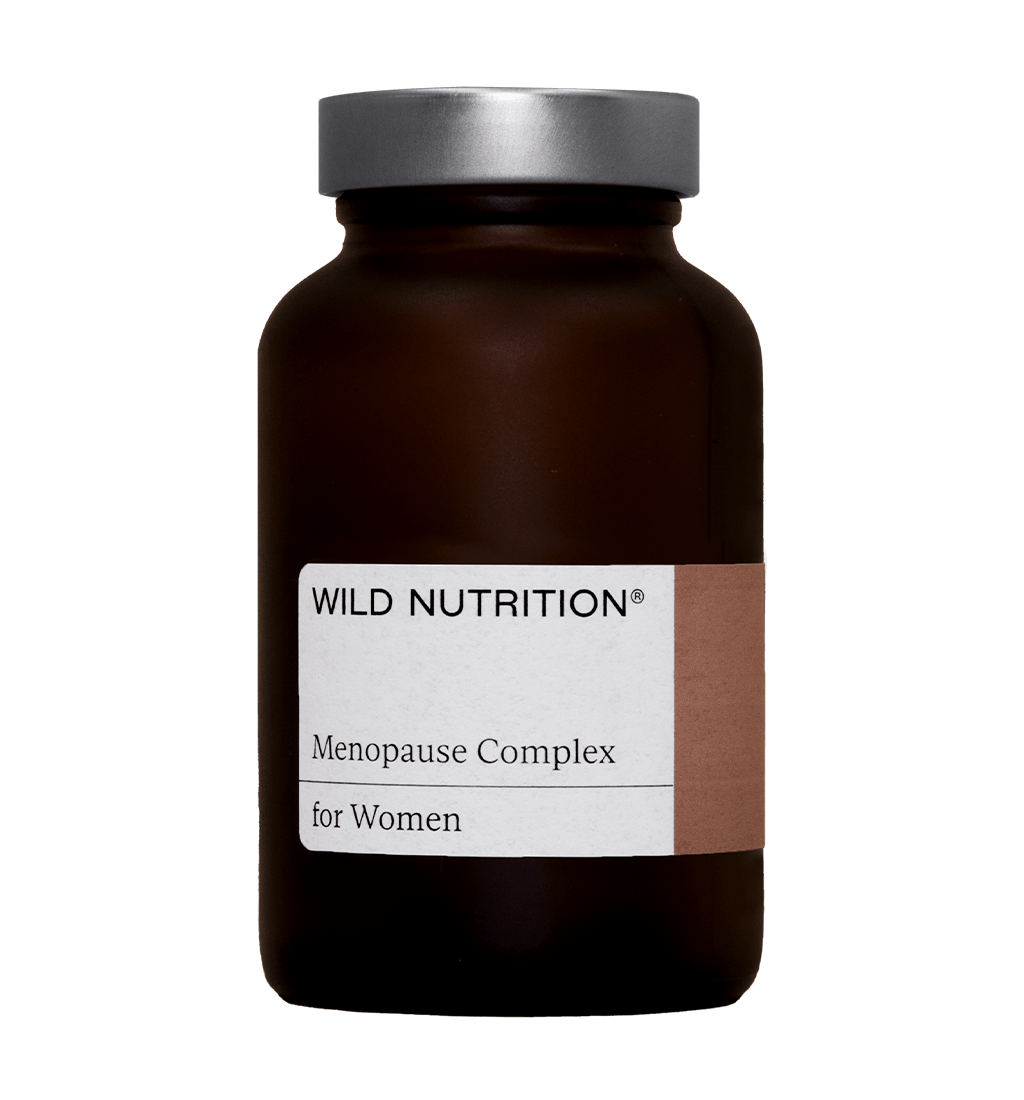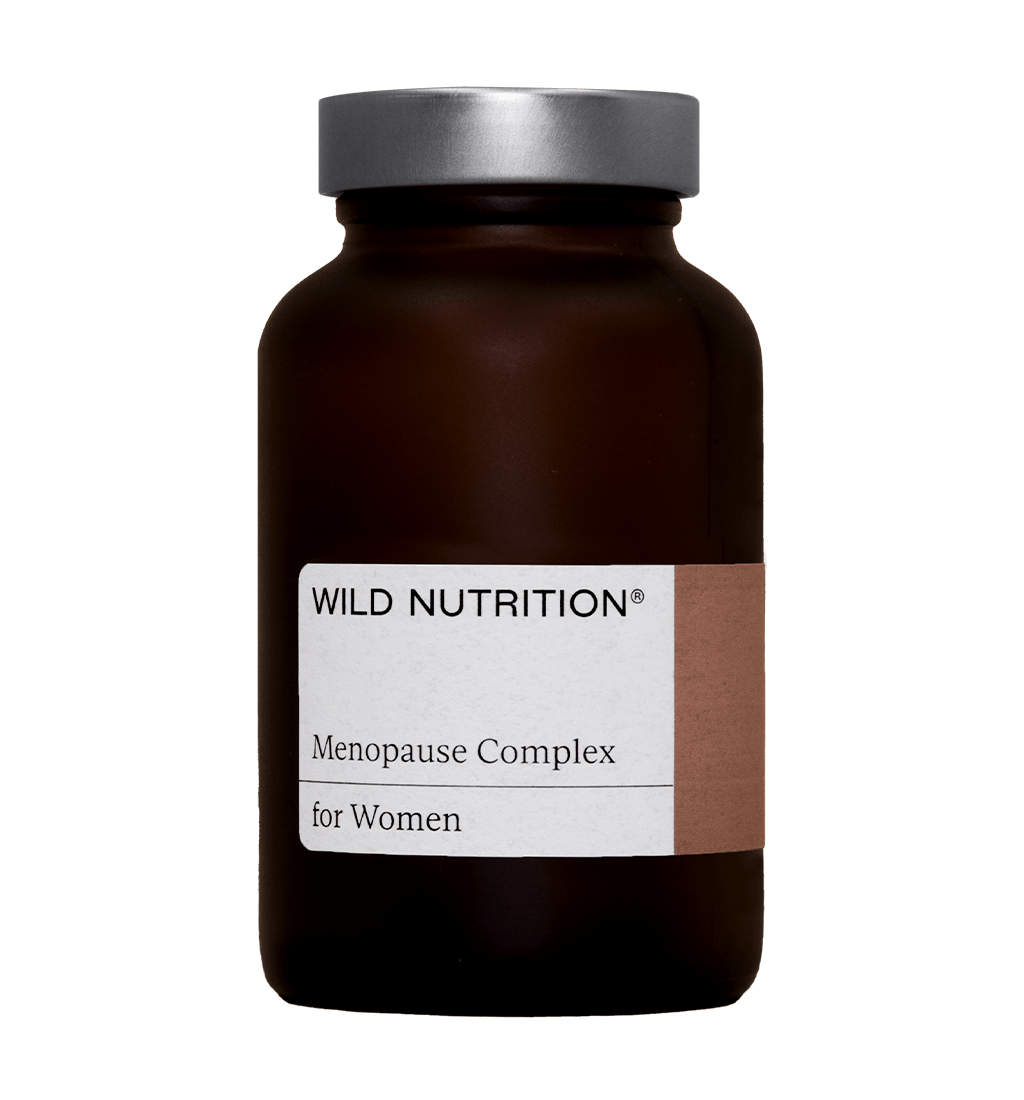 What stays out
We never use...
Added fillers or binders
Artificial preservatives or colourings
Wheat, gluten, rye, oats or corn
Sugars
Need help finding the right supplements for you?
Our expert Nutritional Therapists are here to help.
Book free consultation
Step 1
Book a free consultation
Simply follow the link and choose a suitable time to speak to a Nutritional Therapist.
Step 2
Bespoke advice for you
Our consultations offer tailored support for your health.
Step 3
Delivered to your door
Your new or updated health routine is ready to go.
INGREDIENTS & NUTRITIONAL INFORMATION
Our Menopause Complex
INGREDIENTS: Purified Seawater (providing Magnesium), Vegetable cellulose (capsule shell), Ashwagandha powder, Dong Quai powder, Milk Thistle powder, Alfalfa powder, Green Tea powder and Turmeric root powder.
CAUTIONARY ADVICE: If you are taking medication or under medical supervision, consult your doctor before taking any food supplement. We advise taking your supplements a minimum of 2 hours after taking any medication. Keep out of sight and reach of children. Do not take if seal is broken. Store in a cool, dry place away from direct sunlight. Food supplements are not to be used as a substitute for a varied, balanced diet and healthy lifestyle. For best before date & batch number please see packaging.
FREE FROM ADDED: Artificial colours, sugars, flavourings & preservatives. Contains no live yeast at time of manufacture. Kosher and suitable for Vegans.
*NUTRITIONAL CLAIMS: Contains Magnesium which contributes to normal psychological function, normal functioning of the nervous system, normal energy-yielding metabolism, the reduction of tiredness and fatigue. Magnesium contributes to the maintenance of normal bones and teeth. Contains Turmeric to promote joint health and provide antioxidant support.
*NRV = Nutrient Reference Value
mg = milligram
Nutritional Information
2 capsules provide
% NRV*
Magnesium
113.5mg
30
Dong Quai extract
200mg
Ashwagandha powder
200mg
Alfalfa powder
50mg
Turmeric powder
50mg
Milk Thistle powder (providing 80% Silymarin)
100mg
Green Tea powder
50mg